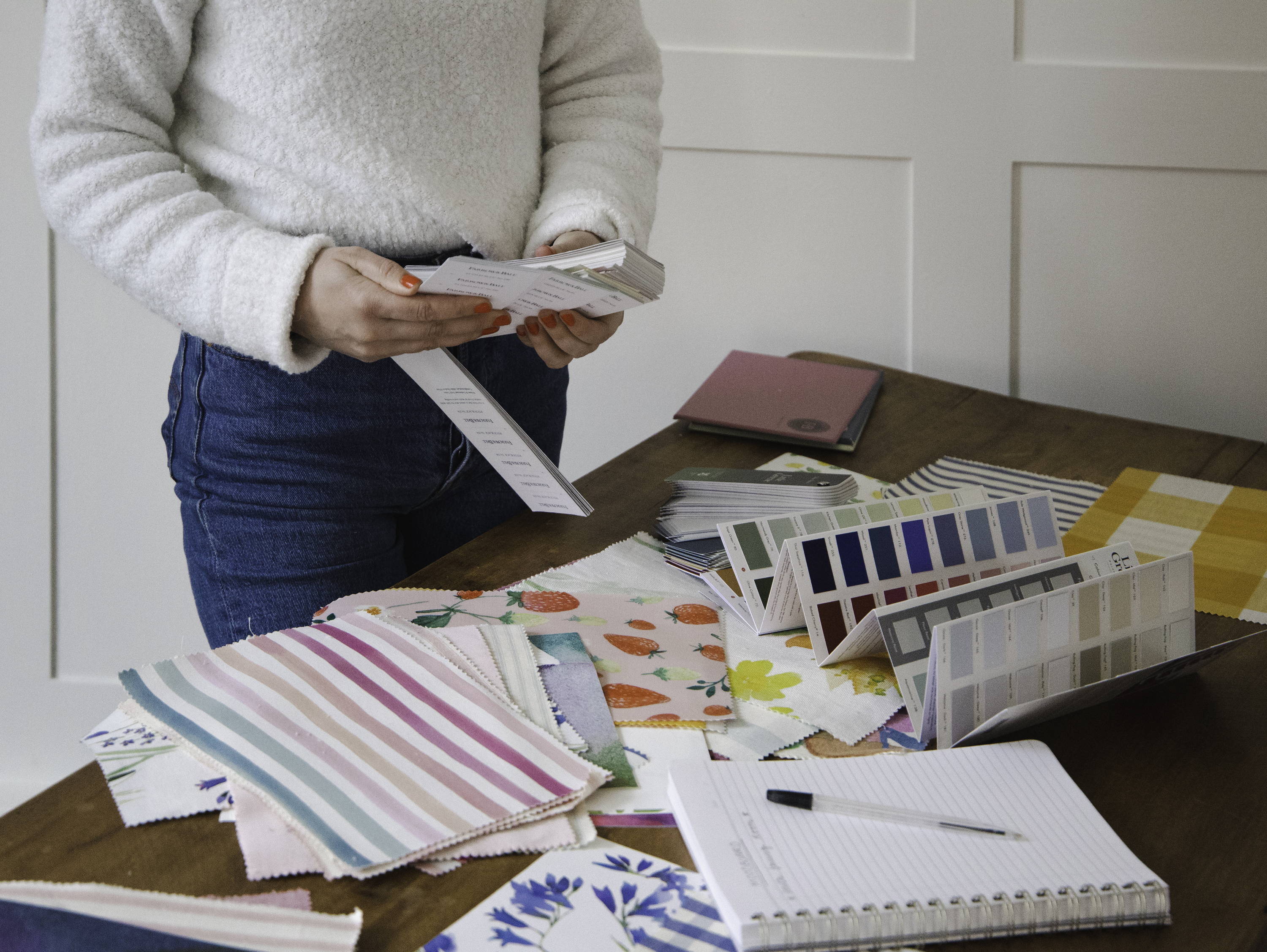 Interior Consultation Service
FIND JOY AT HOME THE BLUEBELLGRAY WAY WITH OUR PERSONALISED MOODBOARD AND CONSULTATION SERVICE

If you are drawn to joyful pattern and colour, but are unsure how to include it in your interiors, we can help. We have created a bespoke moodboard service to help you add our signature style to your home.
At Bluebellgray we have beautiful, high quality and ethically made products for every room. Our designs include bedding, fabric, wallpaper, rugs and tableware, all in our signature colourful, handpainted, watercolour style. We carefully curate and supply design-led homewares to go alongside our own products, allowing us to offer a fully comprehensive solution to your home decor dilemmas.
We strongly believe that your home should be a sanctuary that fills you with happiness and we know that decorating a room can feel daunting. With our Consultation Service our Interior Stylist, Holly, will create a scheme, completely tailored to your taste, and help demystify the design process.
Get in touch with Holly for a free of charge initial conversation.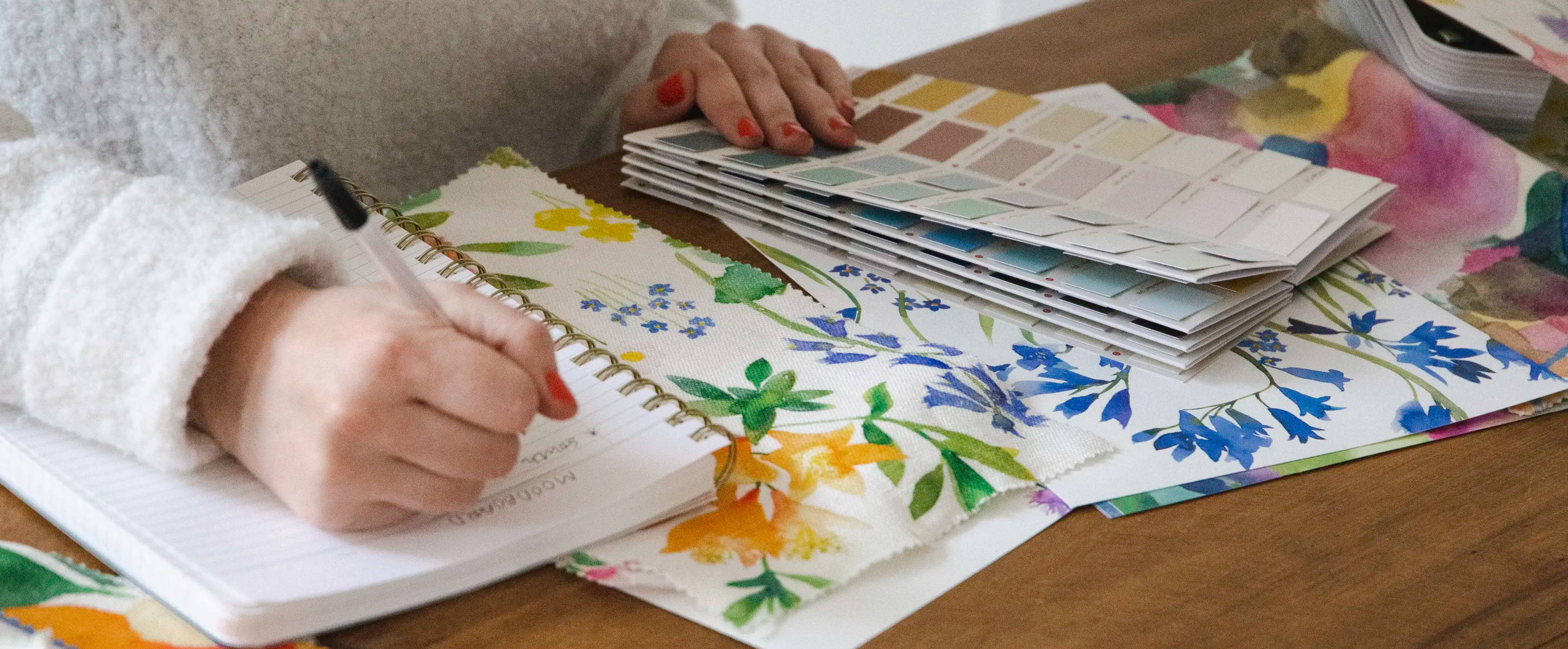 Set up the appointment:
Using the form below we will ask you to submit some details regarding the room you wish to redecorate.
To help us offer you a fully personalised service it would be beneficial to include a few details such as the room's aspect e.g. South facing or how much light it gets, the purpose(s) of the room e.g. living room. Some details regarding your style preferences would also be helpful i.e. what you like/dislike about the room and any colours you have strong feelings about - good or bad! You will later be asked to submit photographs of the room. These steps will allow us to ensure we make the best use of your time during the consultation.
Our Interior Stylist, Holly,will confirm your brief, send you a payment link and organise a date that suits for the initial zoom consultation.
---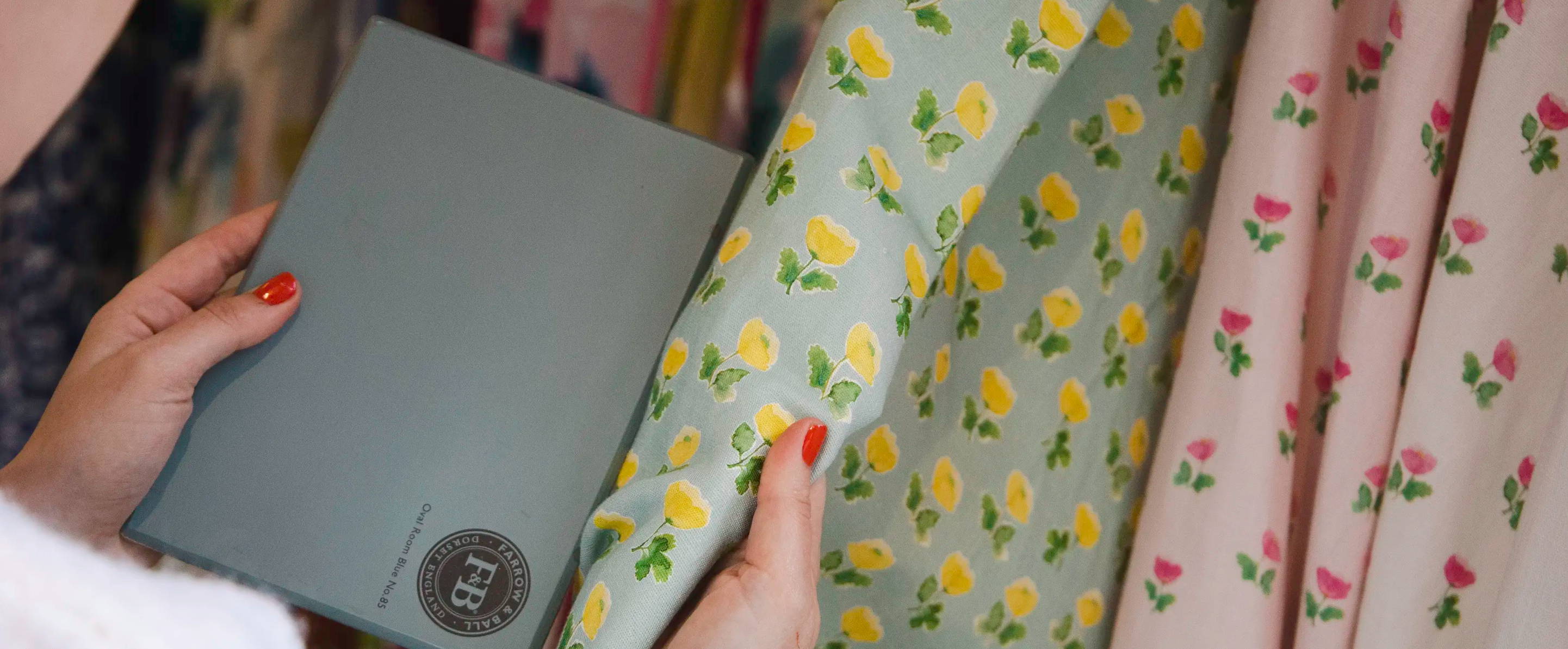 Zoom Consultation:
Your room and how you use it will be discussed in depth with the Bluebellgray Interior Stylist over a Zoom consultation. Here we will also discuss your style preferences, or help you to work those out if you're not sure.
The Interior Stylist will have a detailed look through some of our luxury digital printed Bluebellgray fabrics and wallpapers with you to get a really good feel of which designs you are most drawn to. This is your home so it should reflect your style - our hand-painted range of abstract, floral and patterned designs will transform your space into an inspirational interior.
---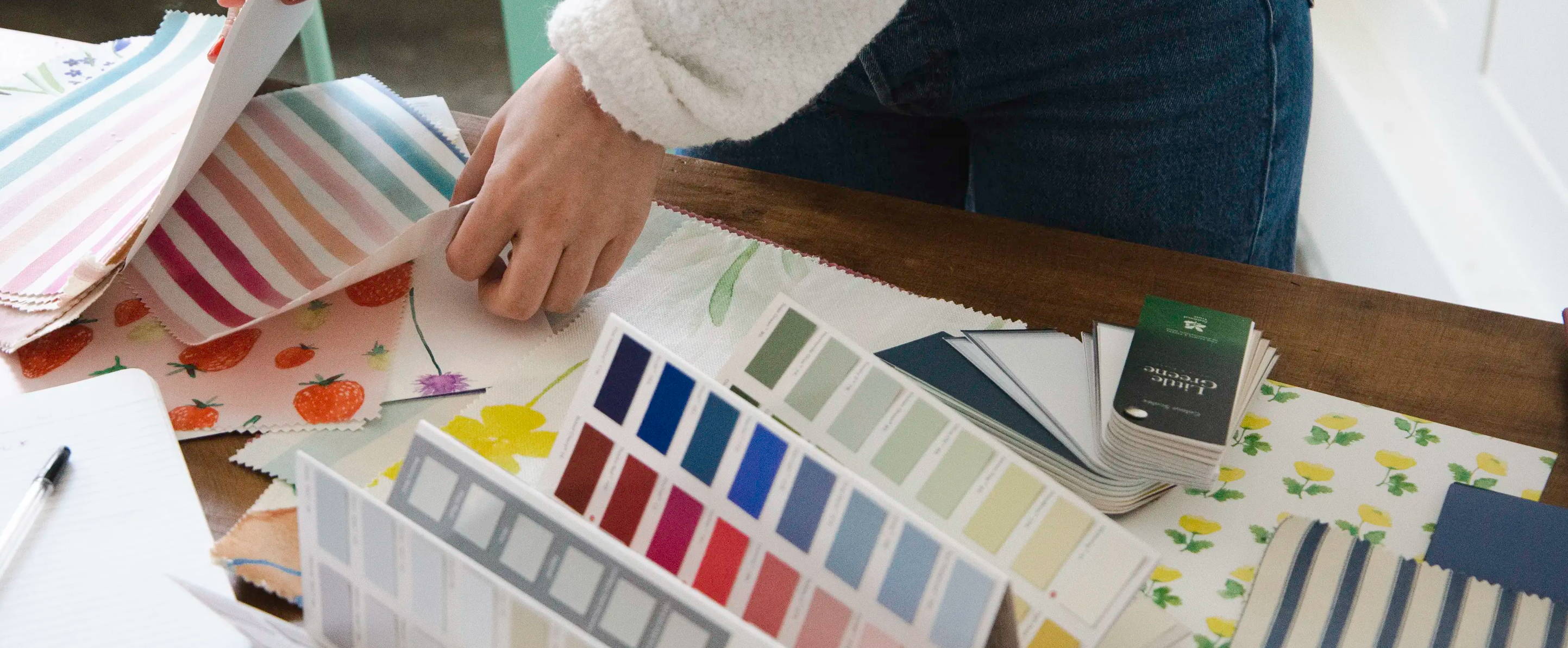 Moodboard:
The Interior Stylist will create you a beautiful, bespoke moodboard - suggesting paint options and how we would decorate your space using Bluebellgray style. This will be an entirely unique product, tailored to you - the moodboard will contain styling tips, design advice and inspirational images. This will be sent to you by email.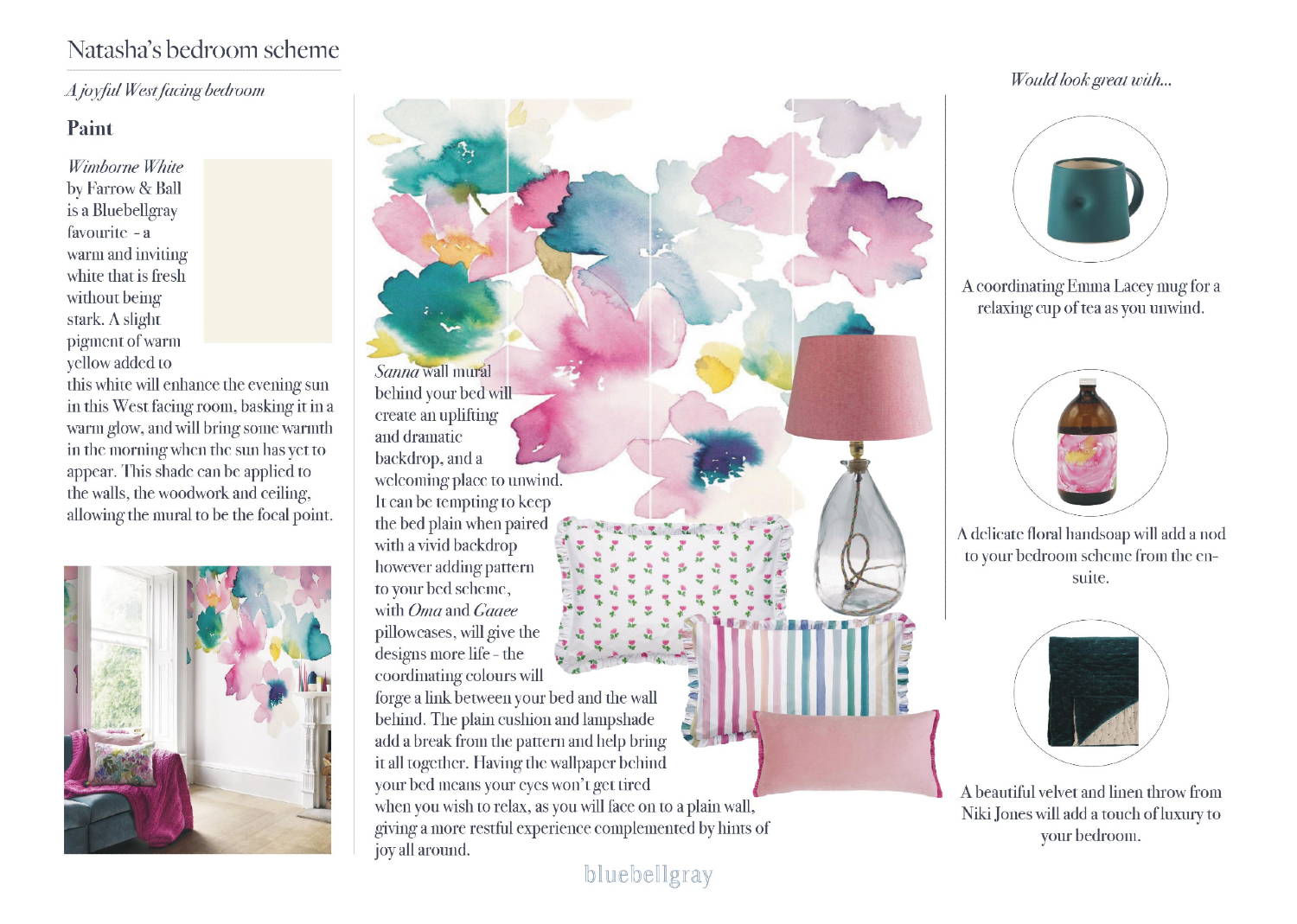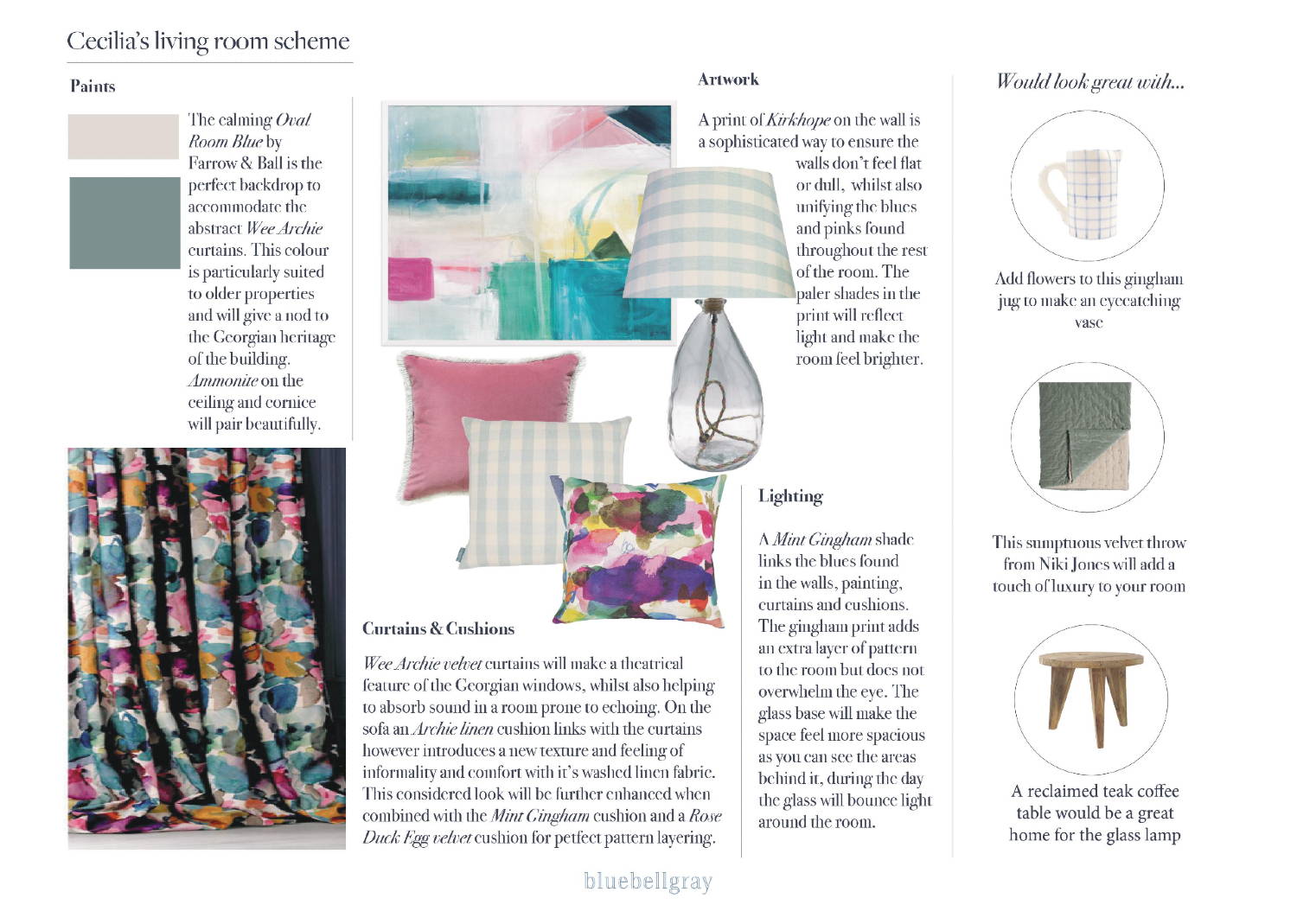 ---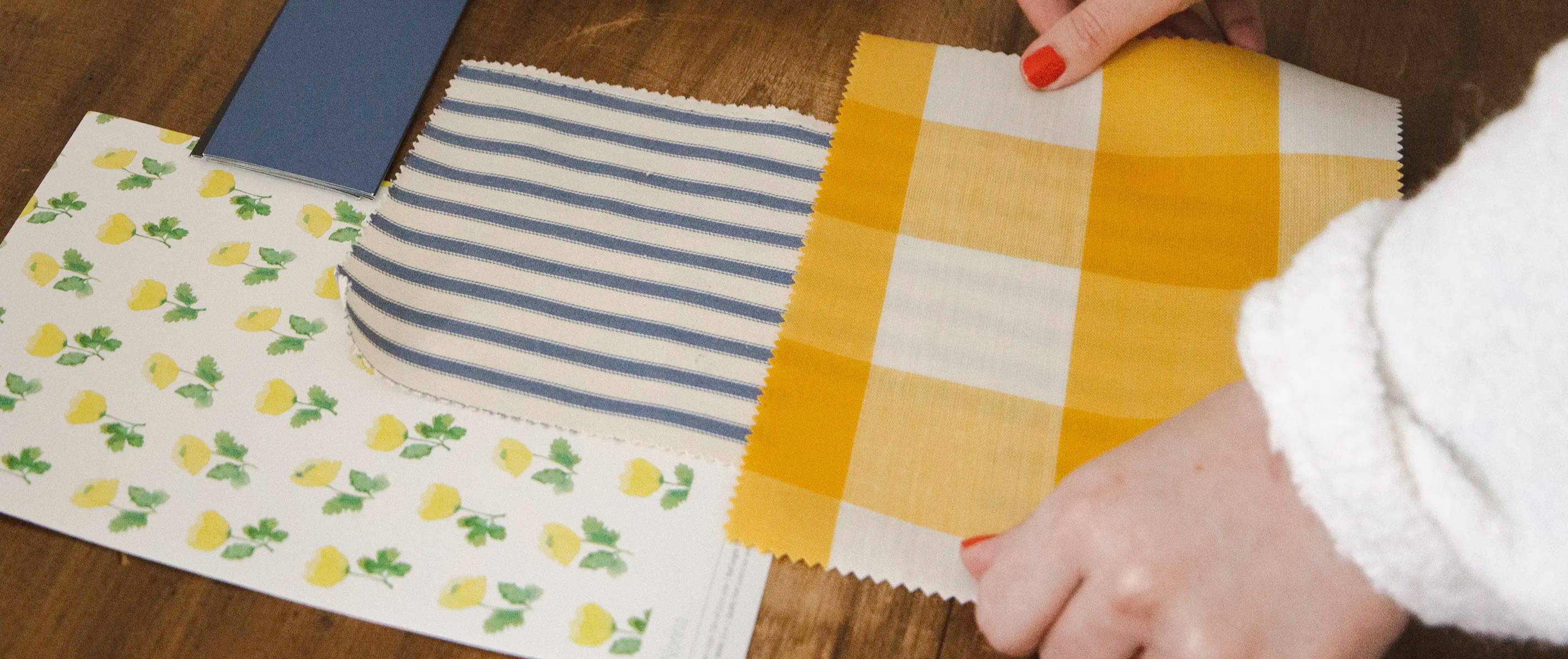 Swatches:
Samples of your suggested Bluebellgray designs will be sent to you by post.
---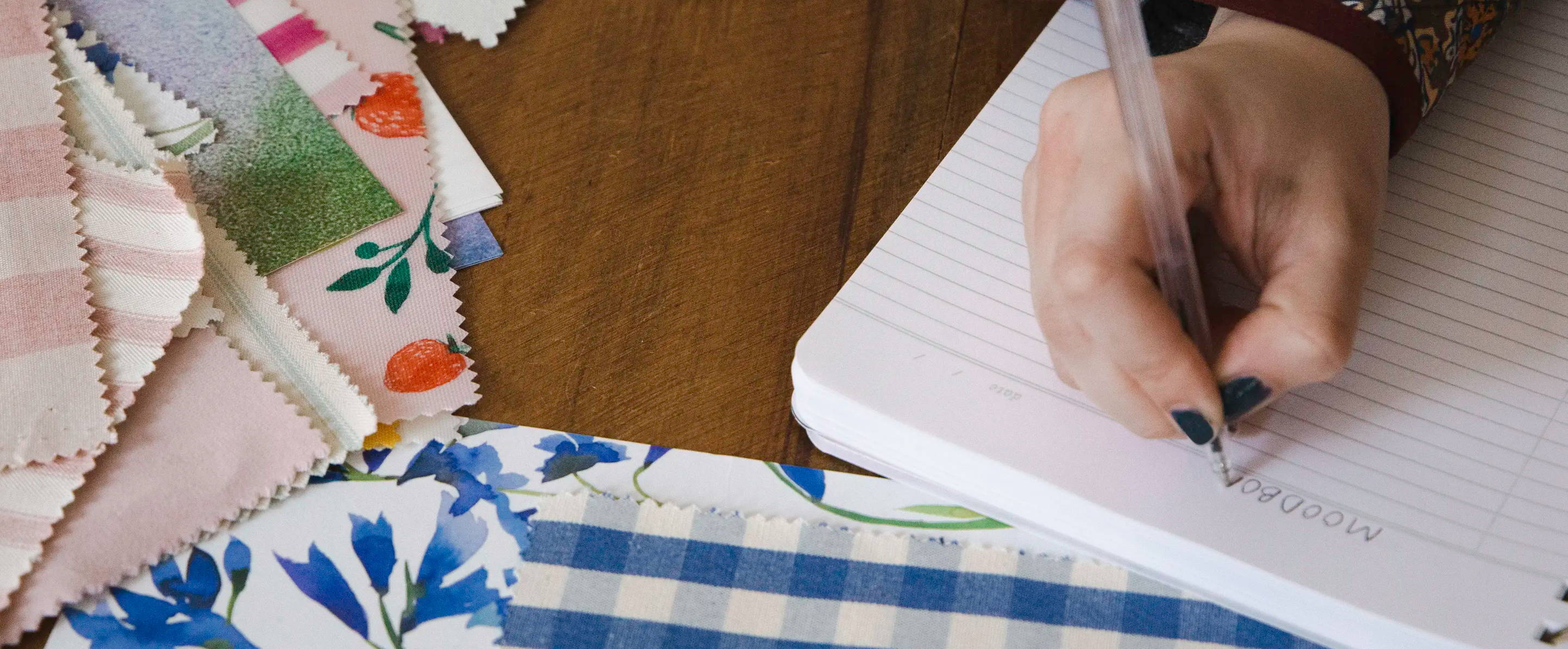 Follow up call:
Our Interior Stylist will speak to you again by phone to offer any advice on your boards, and can speak to our Curtain and Blind Making service on your behalf if required.
---