A Postcard from a Greek Island

Our design team went on an adventure to the Greek Island of Andros for some artistic inspiration and rejeuvination.
This year's creative trip took the design team to the picturesque Greek island of Andros, a beautiful destination, filled with colour, sunshine, wild flowers and surrounded by clear, Aegean blue sea. Focussing on the day-to-day responsibilities and challenges that come with running an independent business, it can prove difficult to find time and space for painting and creating. In need of creative restoration and reinvigoration, Fi and our Head of Design Lucy took a trip to realign and focus on what Bluebellgray is founded upon - painting!
Inspired by new sights, sounds and distance from daily life, they harnessed their passion by participating in a series of workshops with other creatives at Mèlisses. At Mèlisses they took part in painting and natural dyeing workshops, returned to the sketchbook and reconnected with their creative minds.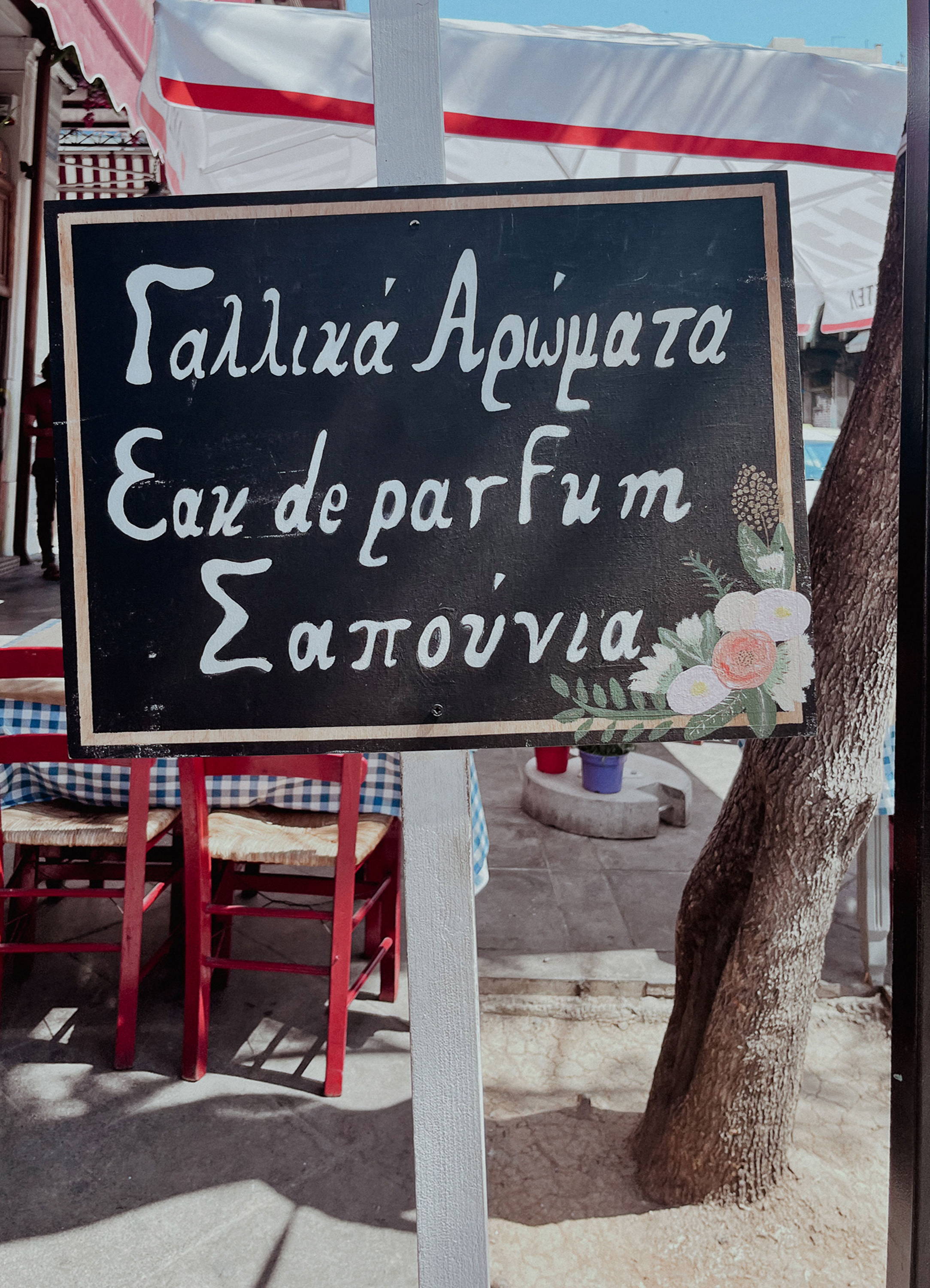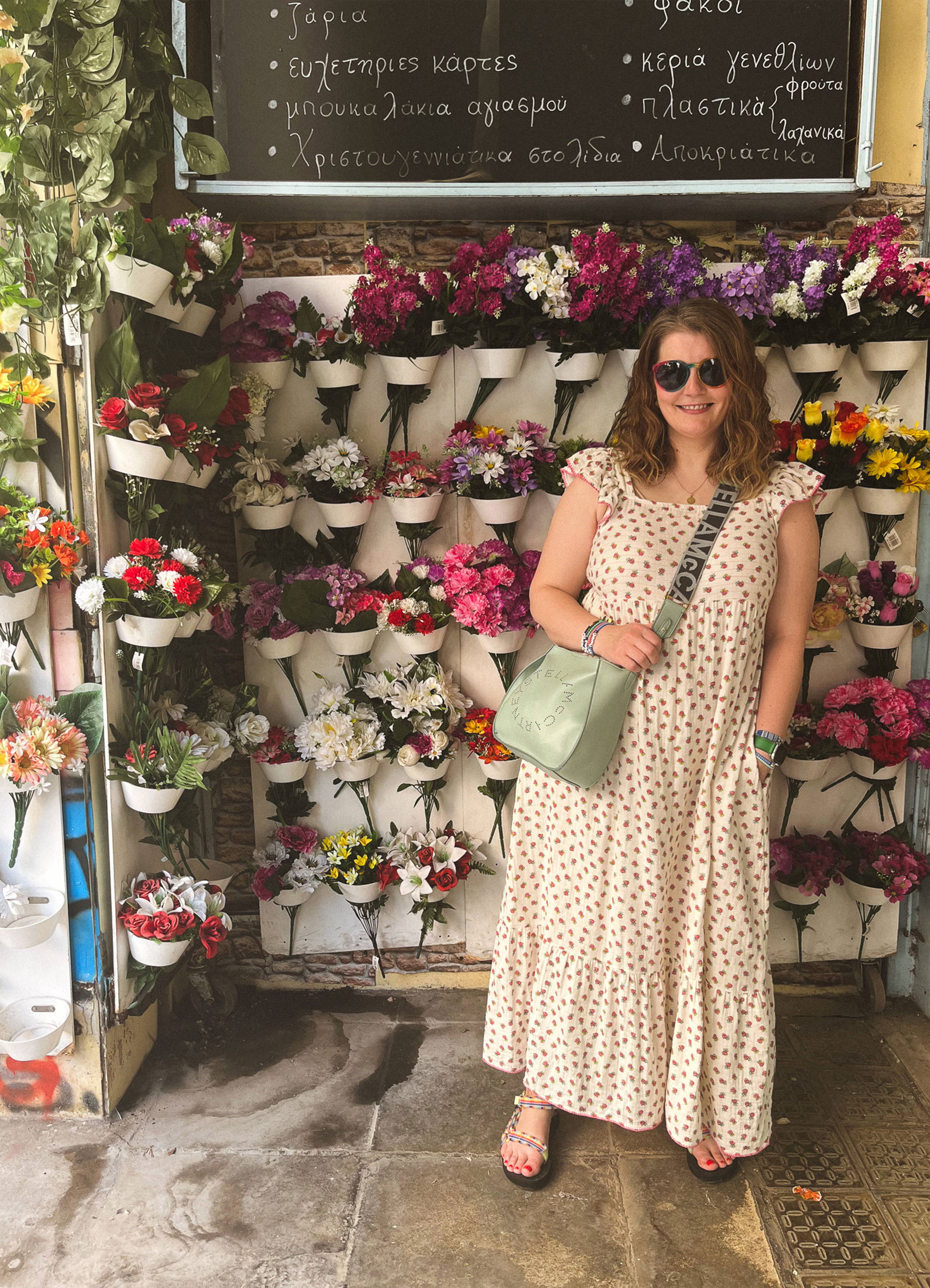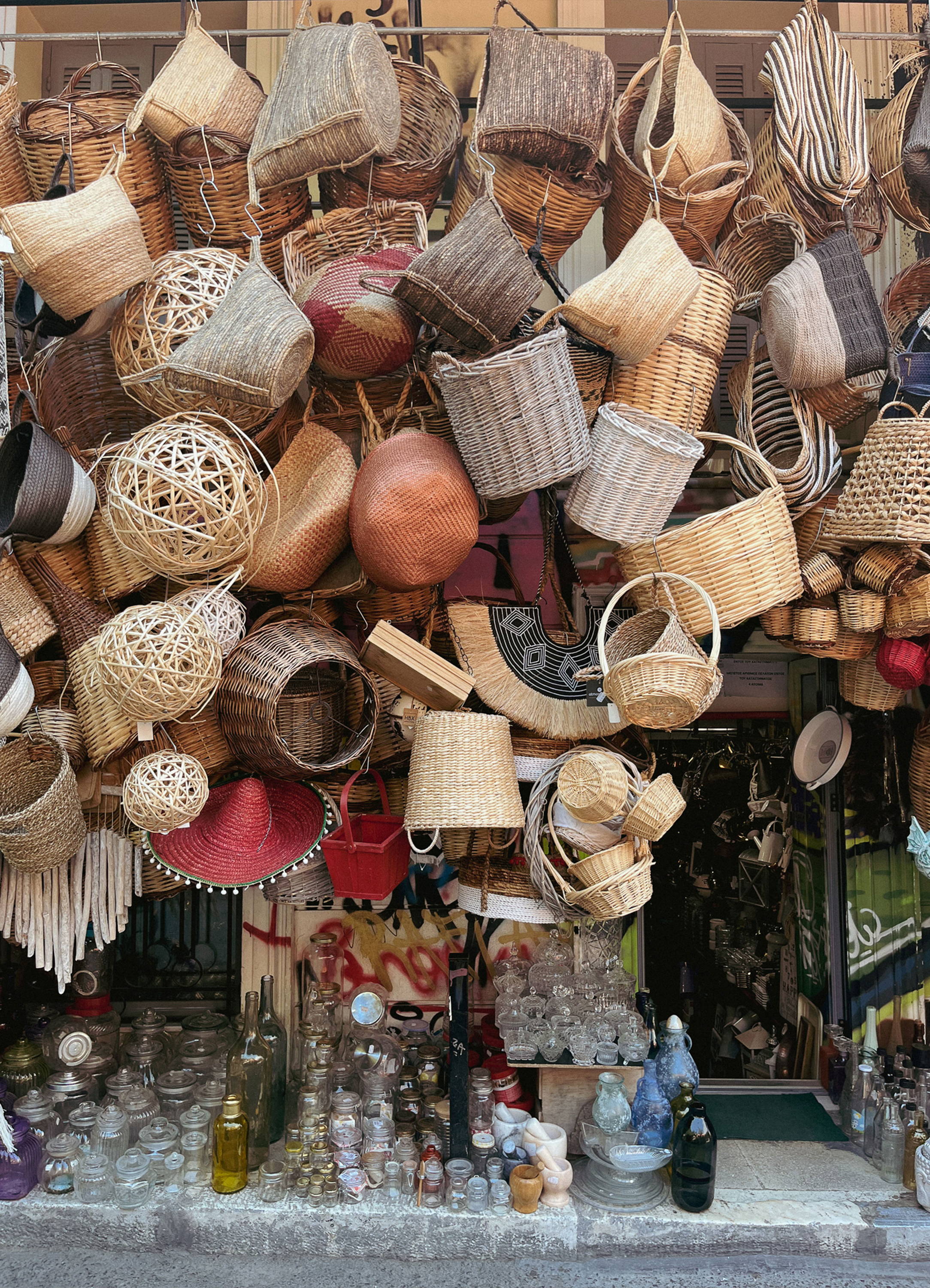 Leaving behind the drab Scottish summer, they had a short stopover in Athens & made the very most of this by touring with a local guide. Driving by some ancient sites and absorbing the atmosphere around the local markets & shops, a Bluebellgray favourite excursion. There are so many new textures, colours & smells to engage with at a market, especially one in a different country where there are local fruits & vegetables, spices, antiques and fabrics. A slow walk around soaking it in can be hugely inspiring - our fabrics Market Stripe and Medina are inspired by previous design team visits to markets. They could have spent all day in tiny stalls crammed full of vintage fabrics, of which some made it into Fi's suitcase, but it was time to catch the ferry to their next destination.
It takes two hours to reach Andros from Athens on the Ferry, luckily it was a calm day! As both Fi & Lucy have an affinity with the sea they were delighted to travel in style on the top deck, surrounded by glittering sun on calm, azure waves.
On arrival at Andros they took a winding (and at times a bit scary!) coastal drive and travelled to Mèlisses, a spectacular seafront property that hosts creative workshops & retreats. Mèlisses is completely private and isolated from neighbours. Set upon a hectare of land overlooking the sea, the peaceful property is enhanced by the noise from the sea slowly crashing onto the rocks beneath & panoramic Greek sunset views - the perfect setting for a restorative break and to enliven creative thoughts.
Mèlisses beautiful interiors are very in keeping with the surroundings - authentic, pared back yet considered, these interiors became a source of inspiration and acted as the perfect backdrop for their workshops.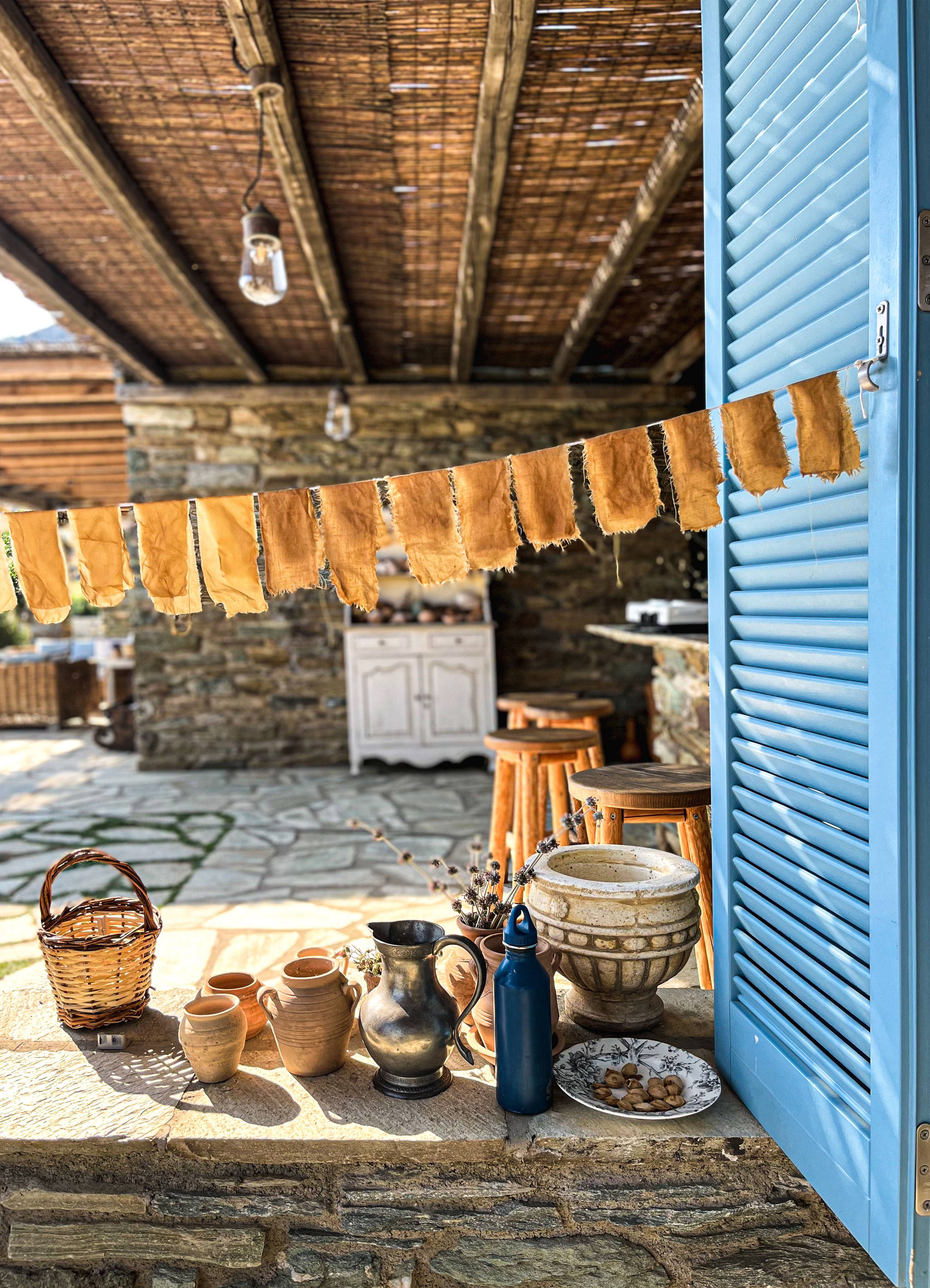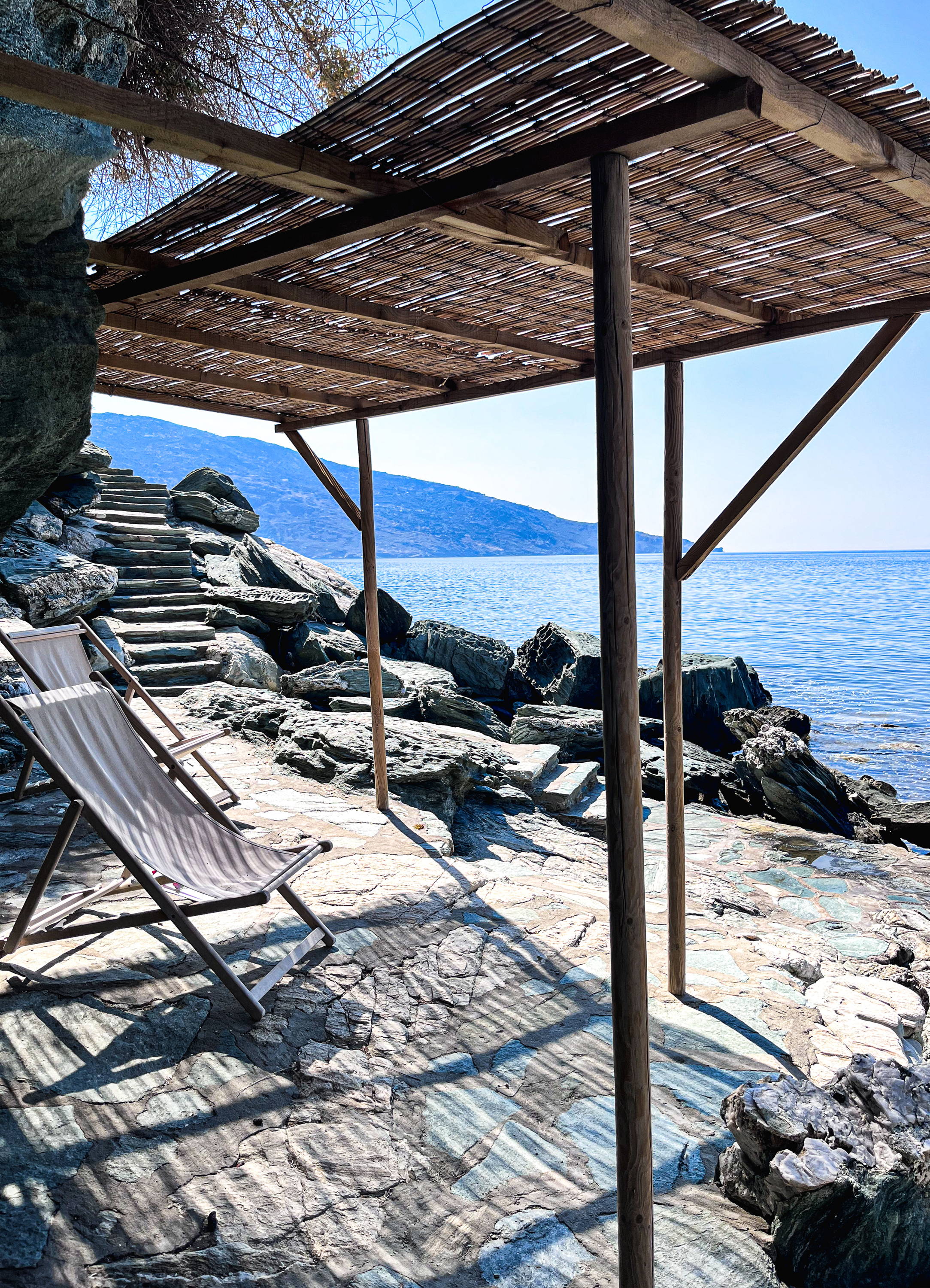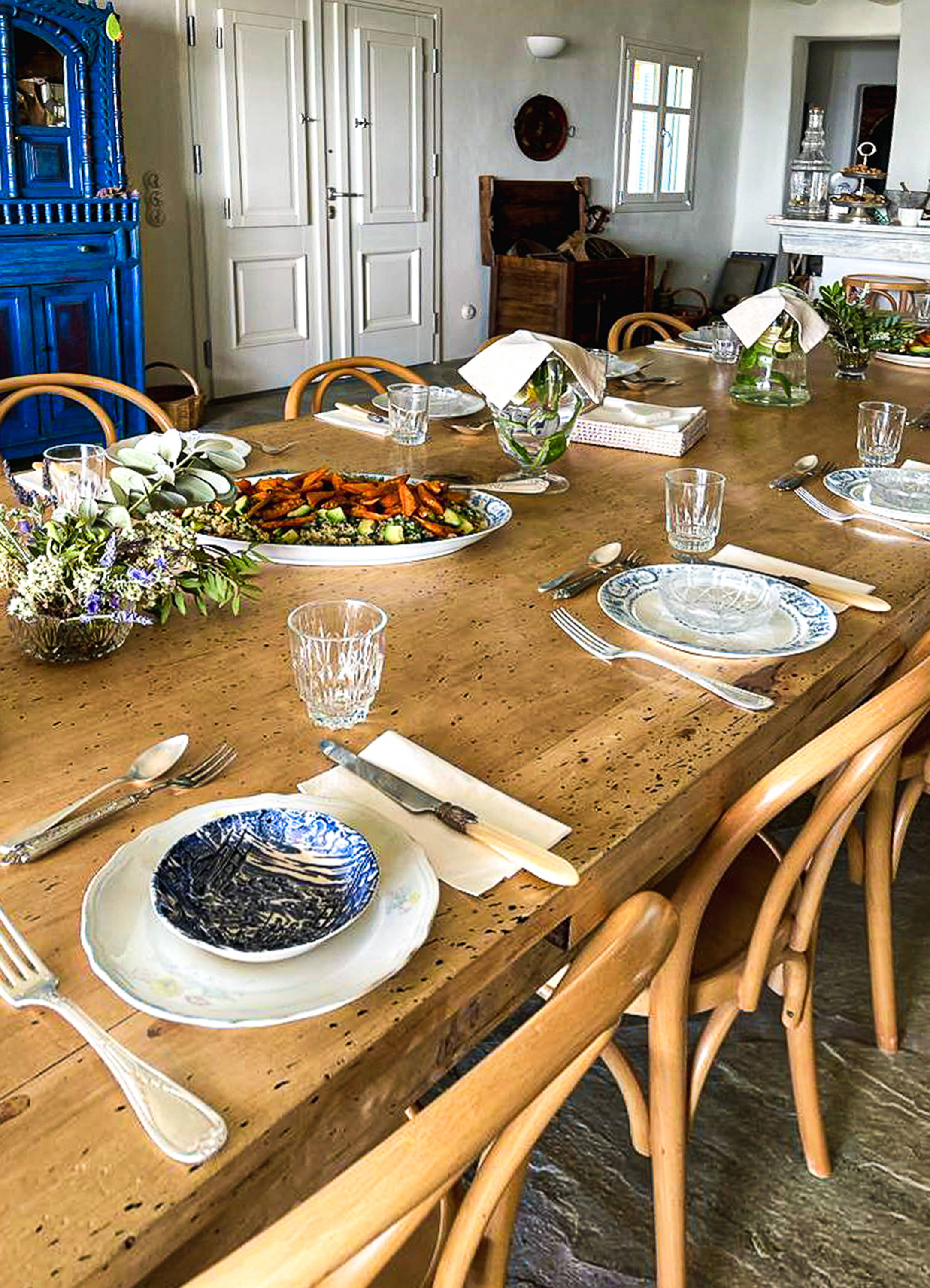 The inviting main hub of the house is the dining area which flows from the inside out, with awe inspiring views of sea, the openness ensures the interiors are doused in sunlight and feel part of the landscape. White walls with a scattering of carefully curated artwork, combined with vintage objects and carefully placed antique furniture, some in blue tones - a tasteful ode to the classic greek colour palette. Lining the ceiling are wooden beams, also painted white, the space glows in the sunlight. Stone floors keep the room cool and add a grounding experience underfoot. Natural, wooden bistro chairs surround the communal dining table in light organic lines - the property feels entirely part of the landscape, not built upon it.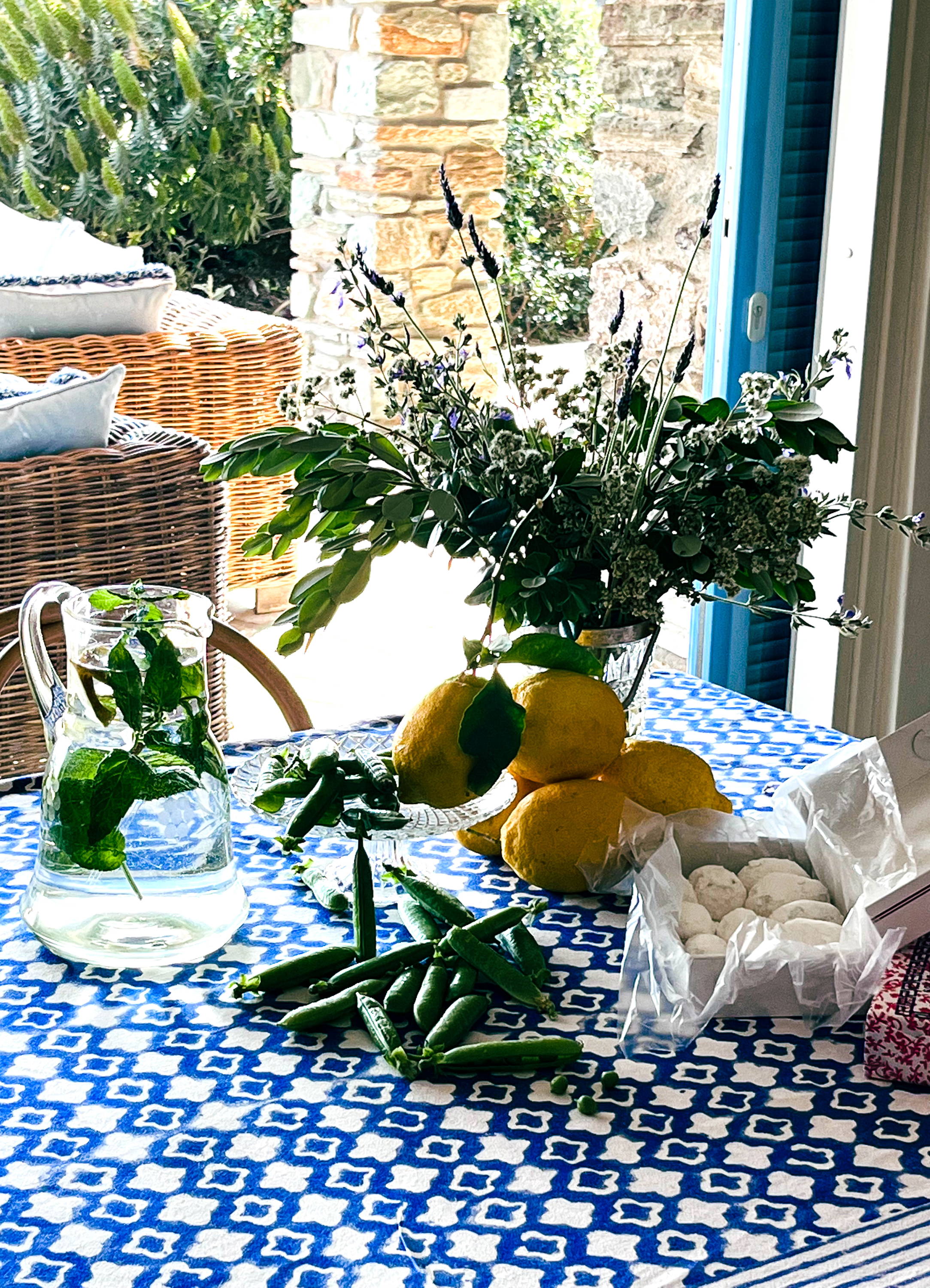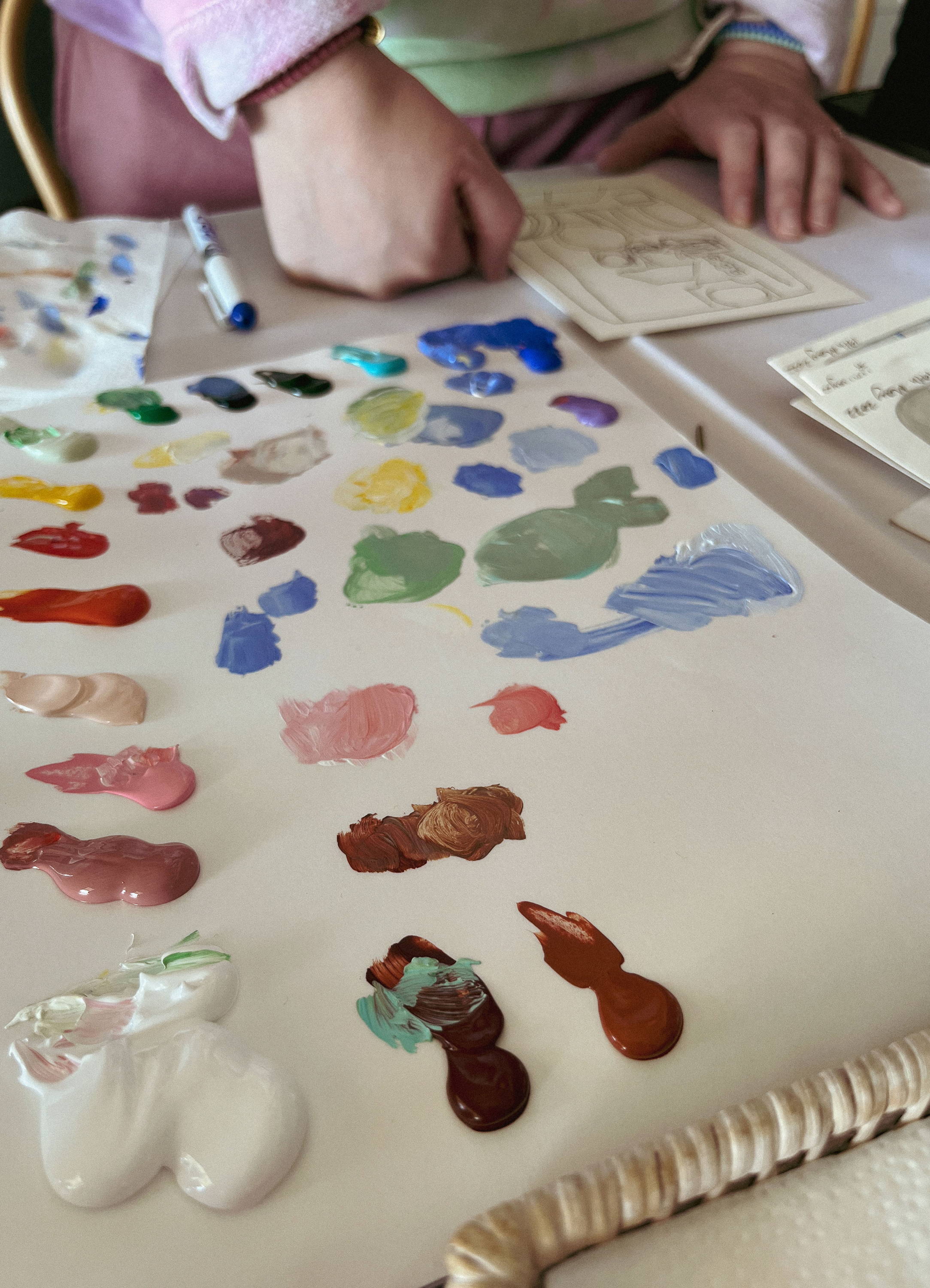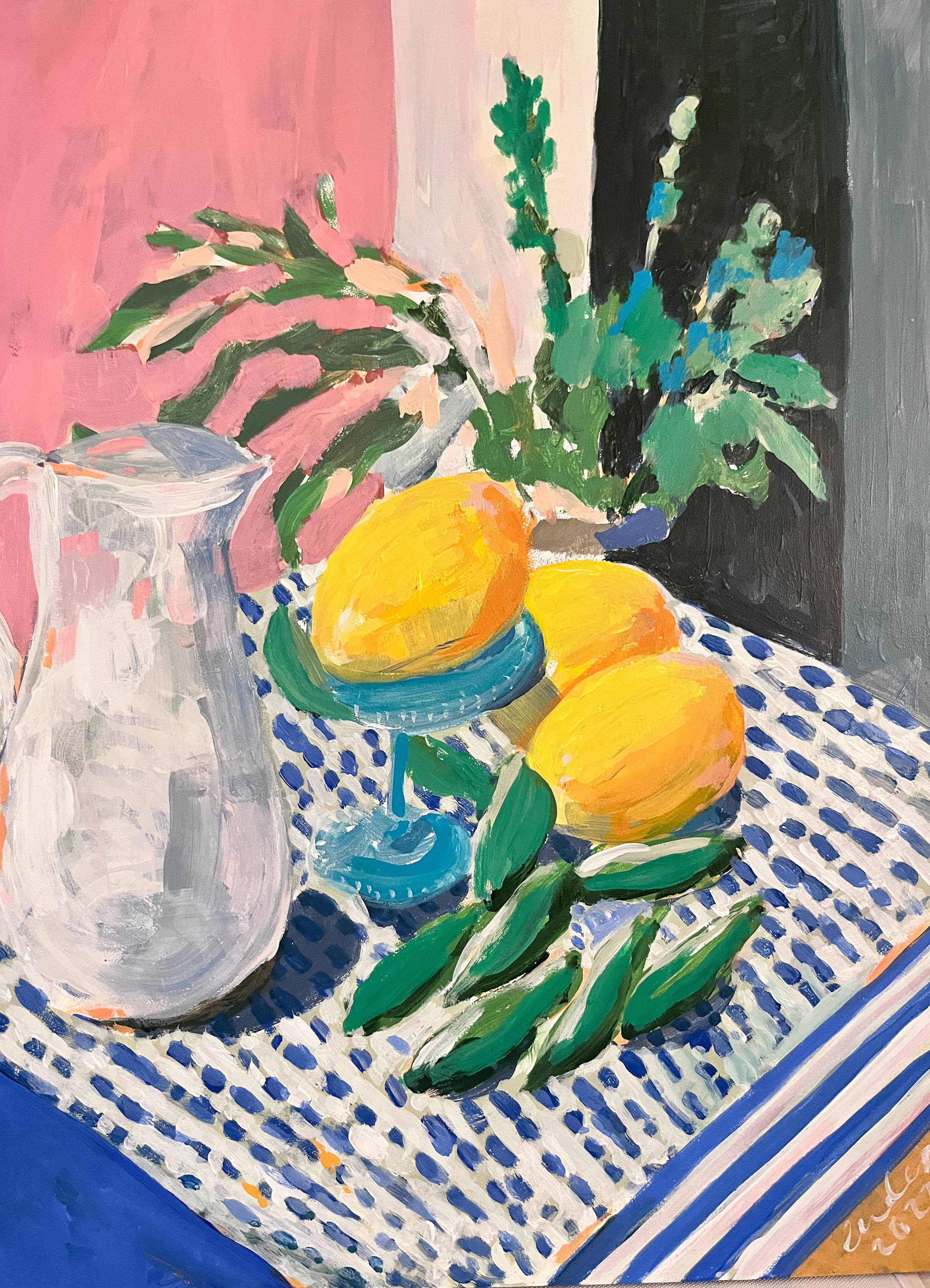 Fi discovered Mèlisses through following Blakely Little (@blakelymade) on Instagram, Blakely was hosting the painting workshops. Fi and Blakely had an instant connection, drawn together by their shared love of painting joyfully - evident in both of their works. Despite being the foundation of Bluebellgray, painting tends to be what Fi has the least time for whilst focussing other business decisions (& distractions!), embarking on the painting workshop was entirely for fun, joy and reinvigorating creative energy. Throughout the workshops they reunited with a viewfinder, discovered painting with acrylics on paper, and rekindled the happiness that comes with creating a sketchbook - drawing with no demand and expanding on ideas organically. The group spent time gathering inspiration, pressed flowers from the land into their sketchbooks and documented their thoughts; this was all exploratory, with no pressure - hugely refreshing!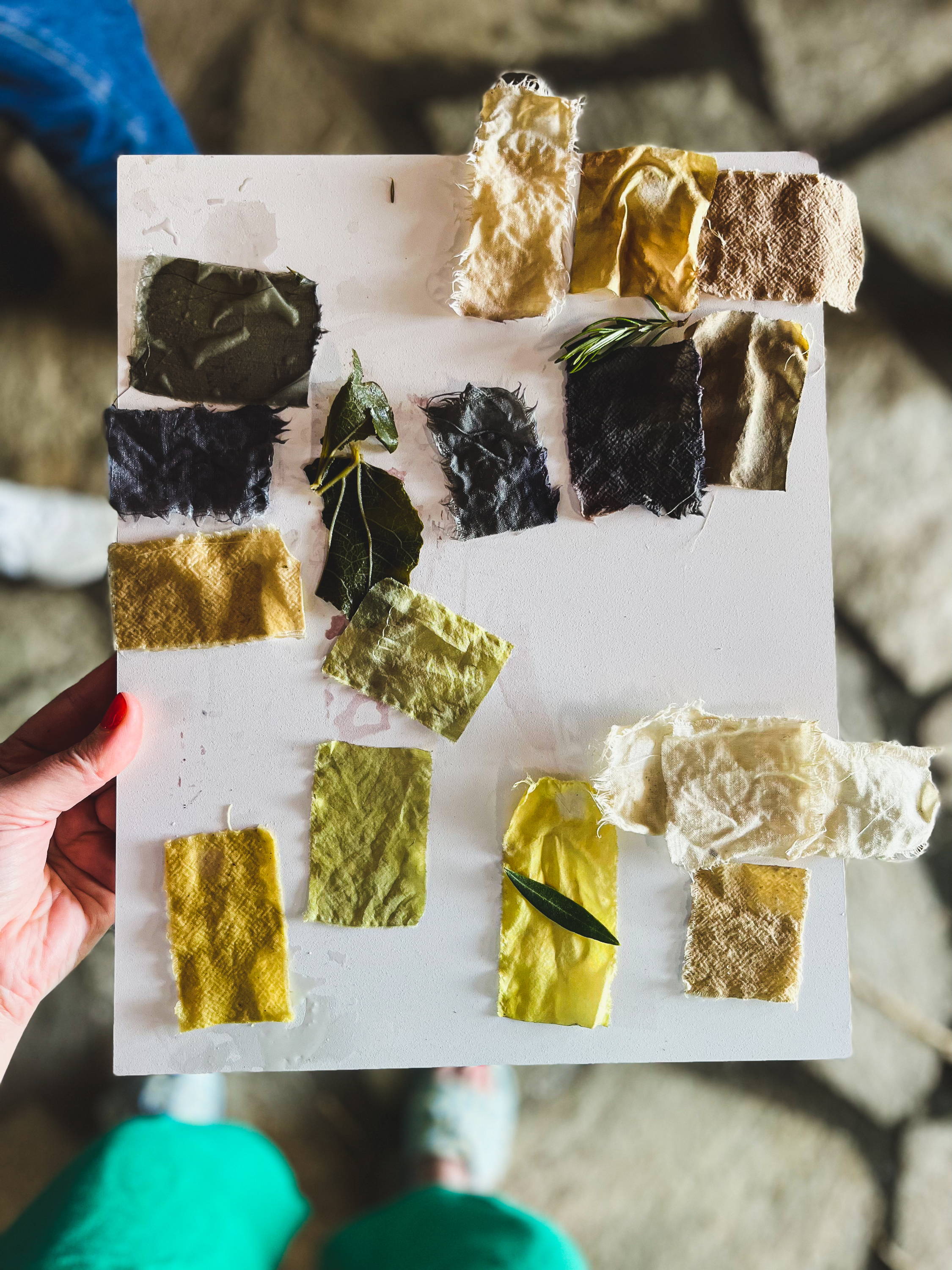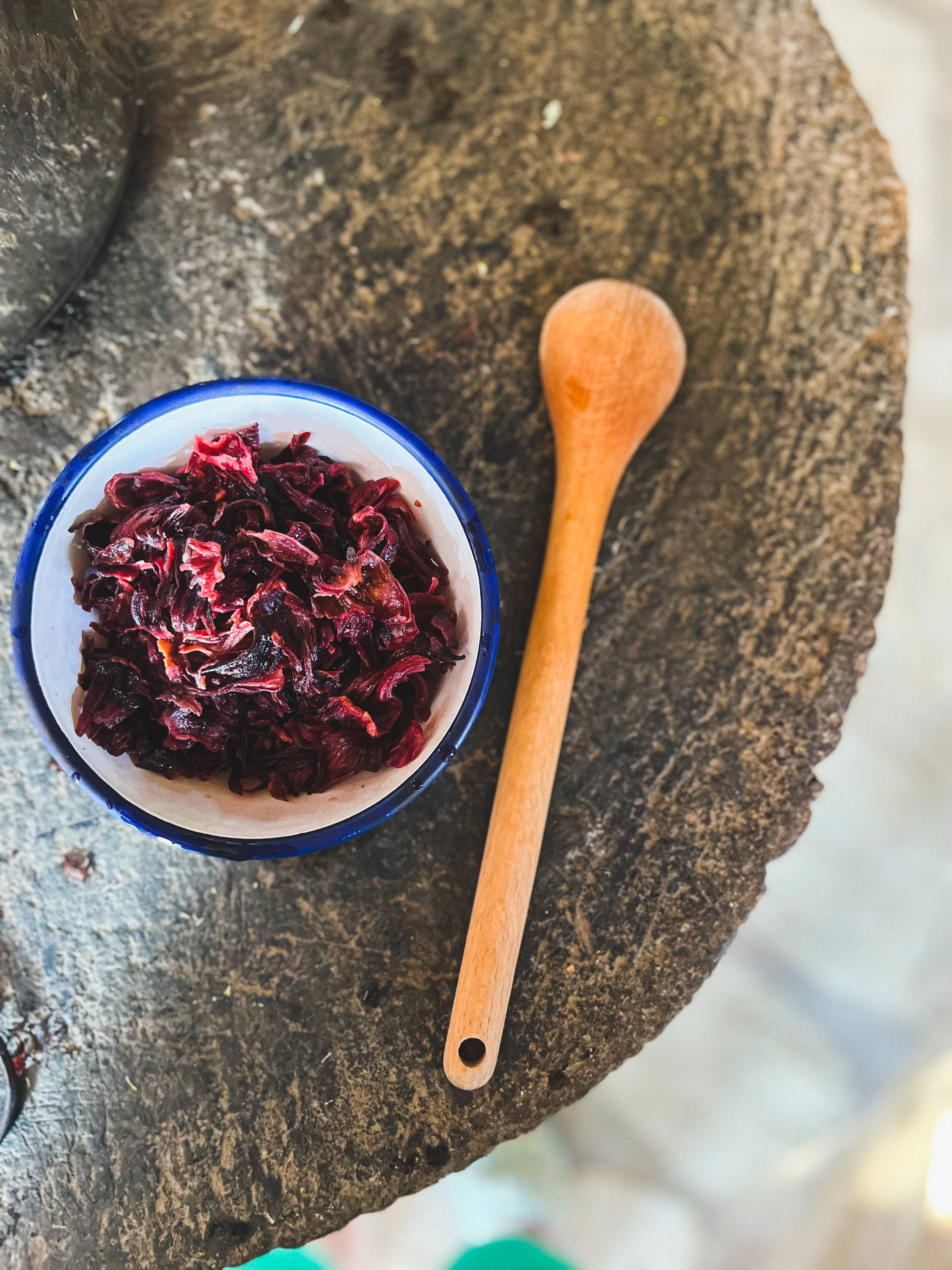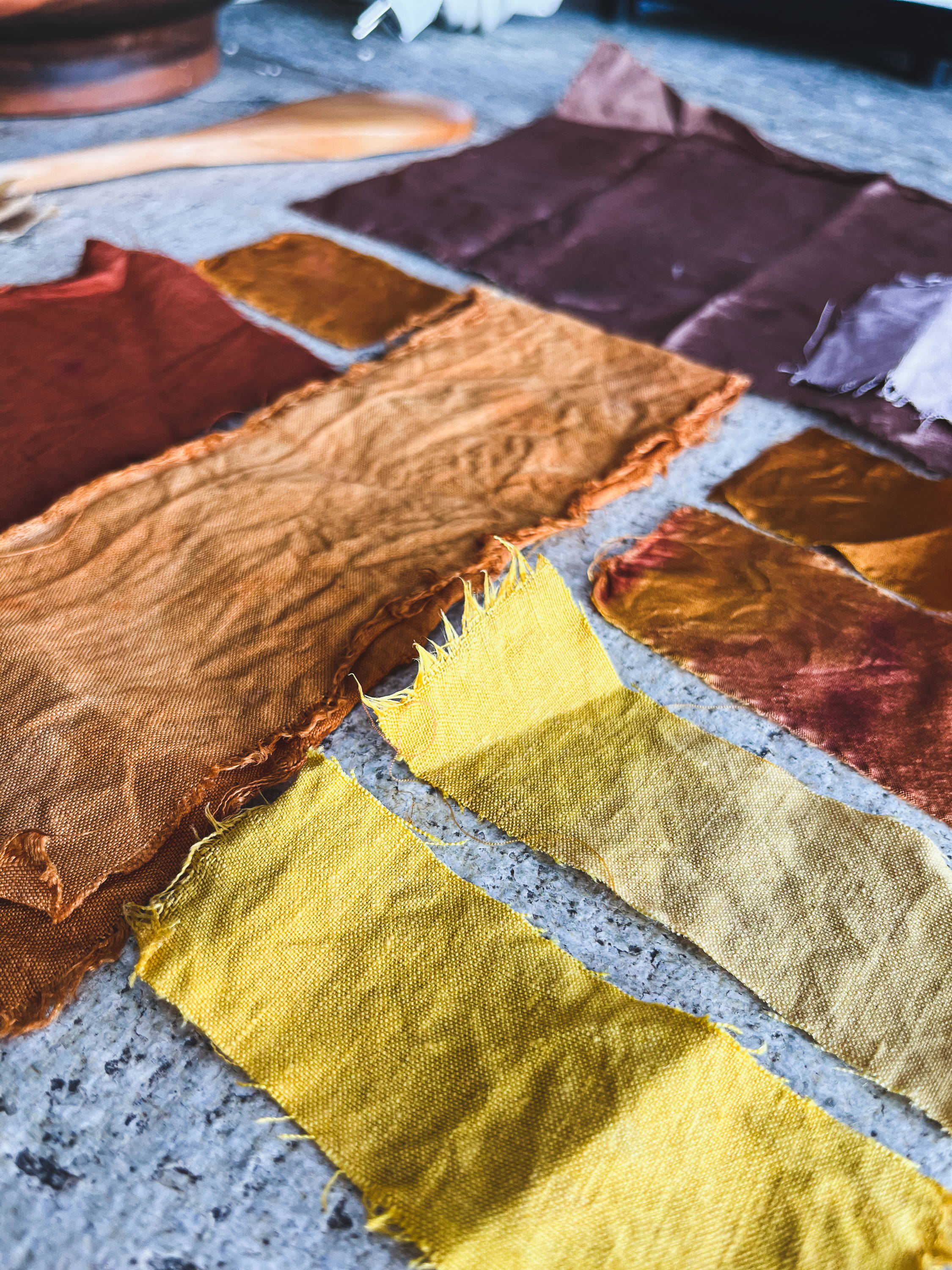 Kathryn Davey (@kathryn_davey) led an incredible natural dyeing workshop - something Fi and Lucy have always been keen to try, determined to find the perfect pink! Plants and flowers were foraged from the island and Kathryn taught the group how to transform these into dyes to create a beautiful muted palette on cotton, linen and silk. With the help of Kathryn they used folding techniques to create patterns when dyeing, and were delighted with the result. Later these dyes were used to paint the seascape with - it was such an amazing and holistic experience to paint the sea using plants from the island, and also forced them to work with a completely different palette to Fi's usual & unique palette.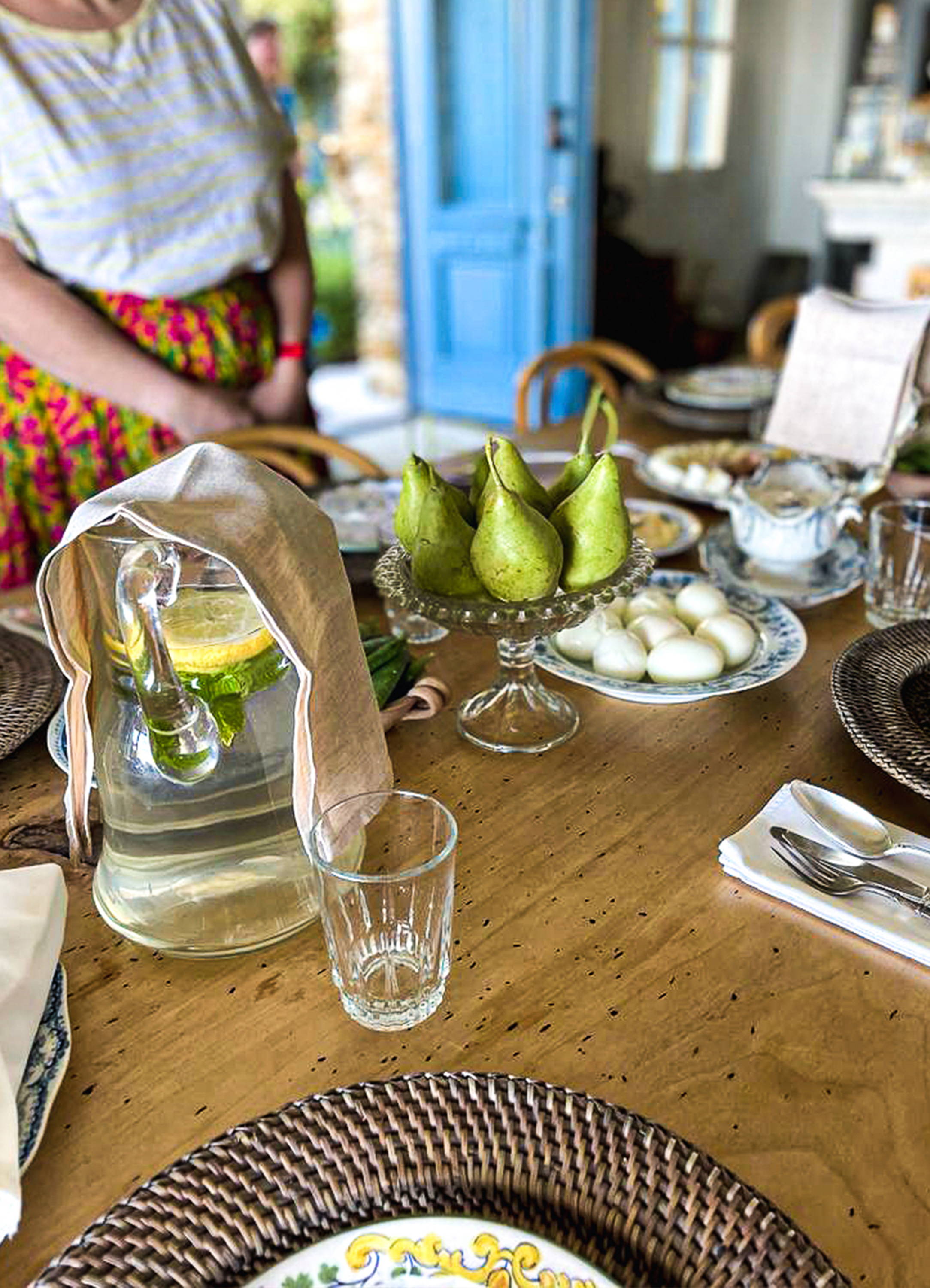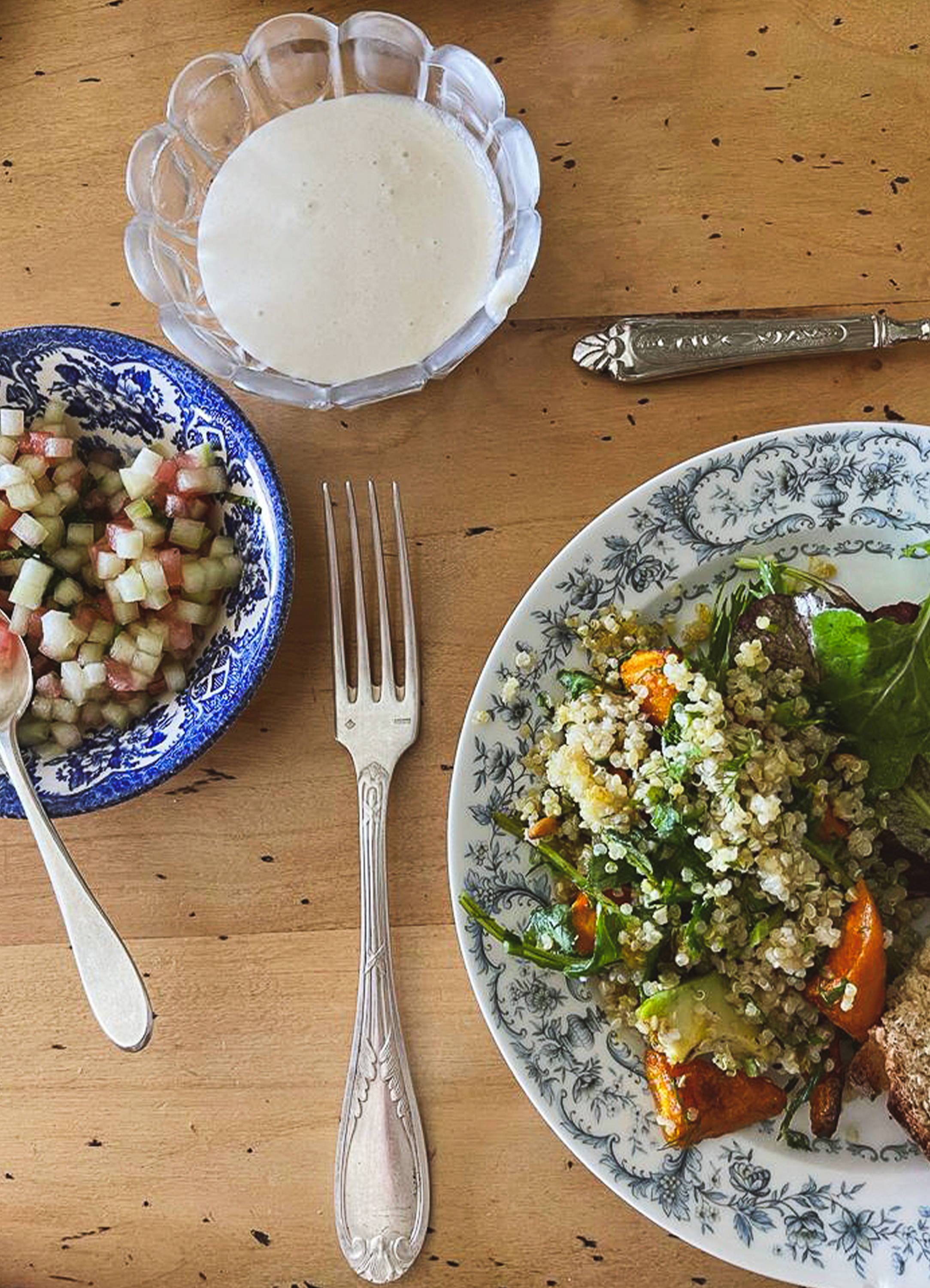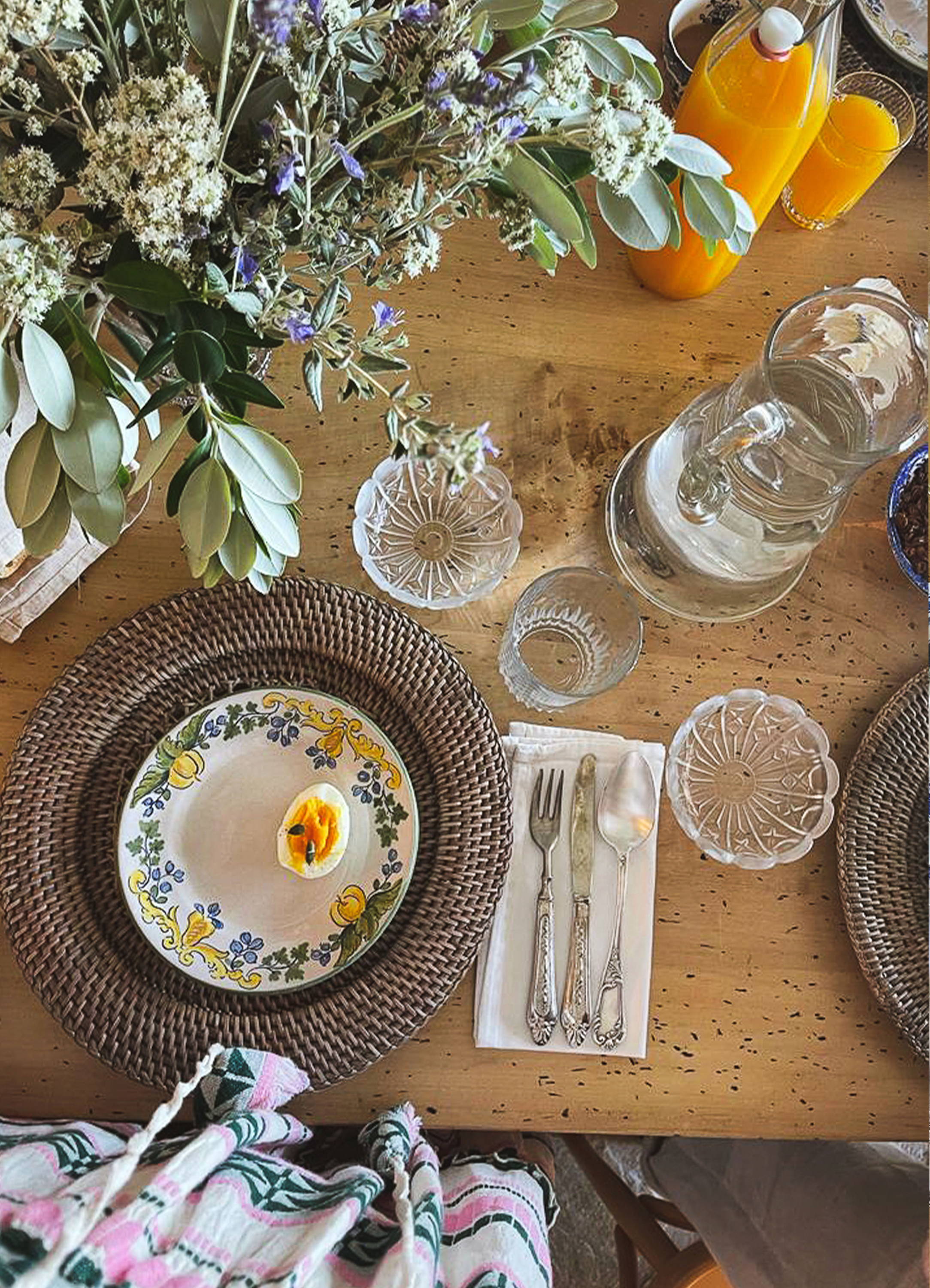 The dining experience at Mèlisses was led by the amazing food writer, chef and illustrator Letitia Clark (@letitia_ann_clark), the food was fantastic! The group were welcomed to eat together family style, admiring views of the Aegean sea from the wooden dining table. With ingredients freshly picked, daily from the grounds, every bite of every meal was to be savoured. The meals were presented beautifully in delicately patterned vintage crockery, scalloped edge glassware and elegant table linens. The combination of the amazing scenery, beautiful interiors and exquisite dining experience placed everyone in a fantastic state of mind to engage with creative workshops.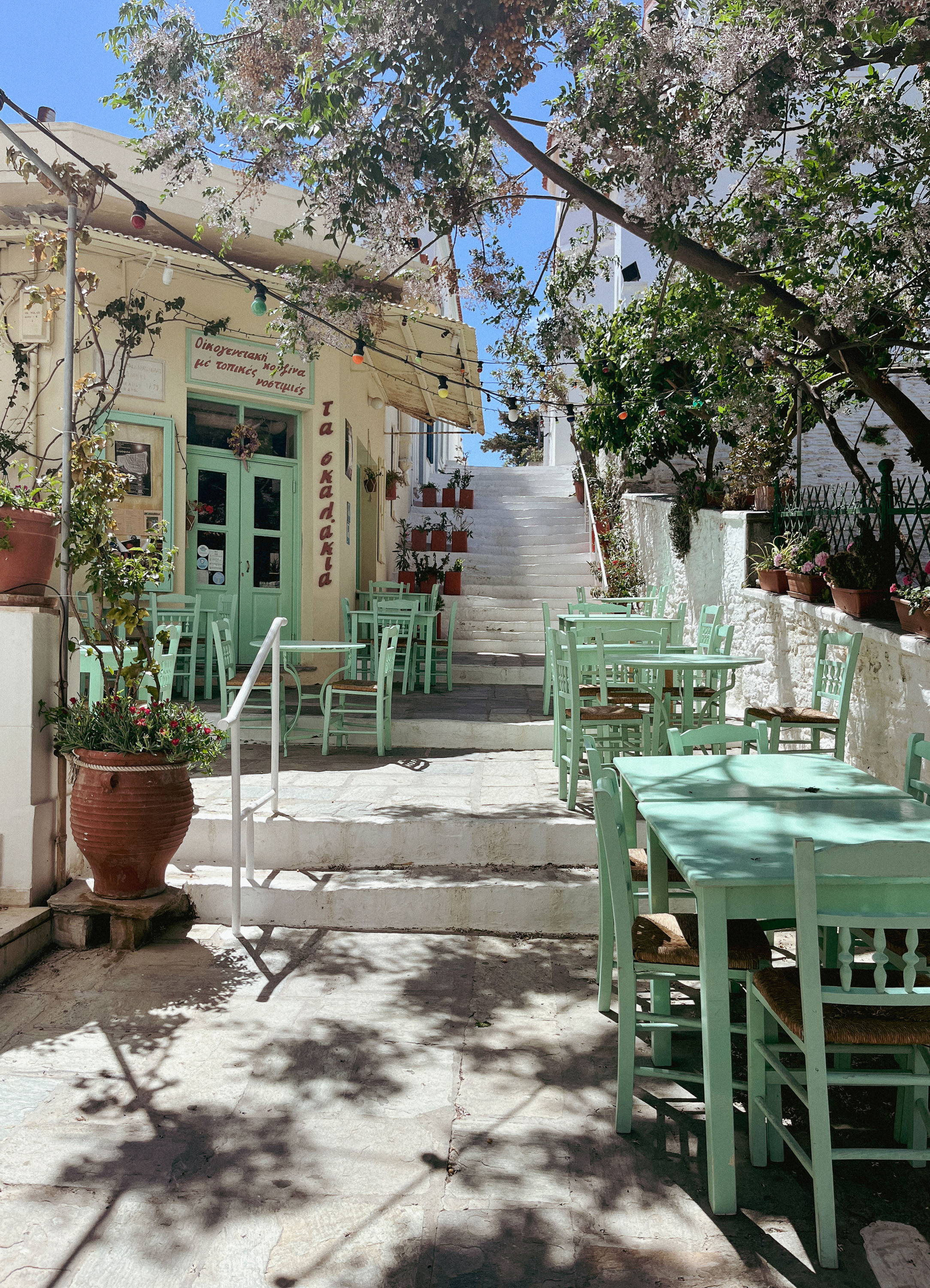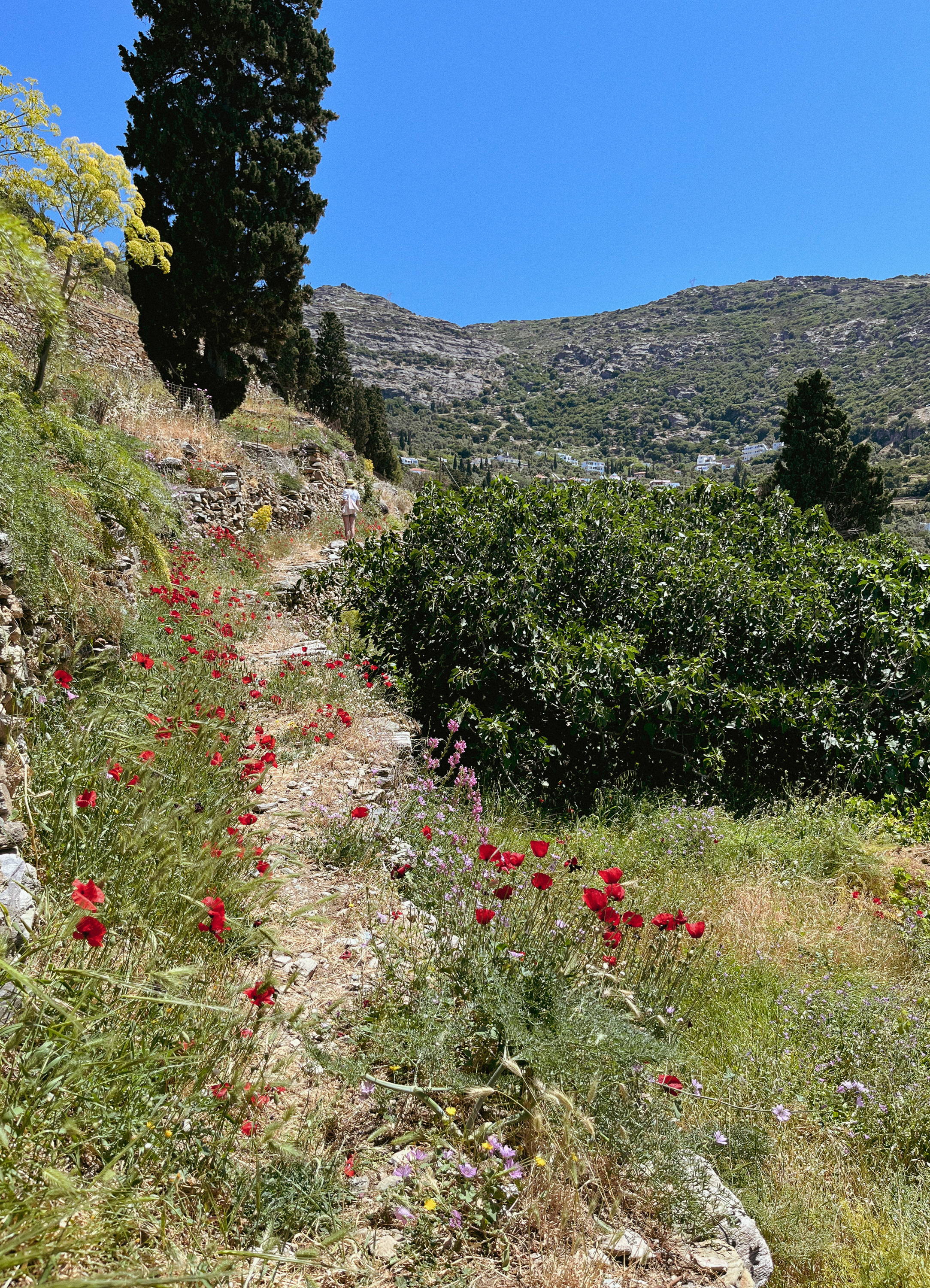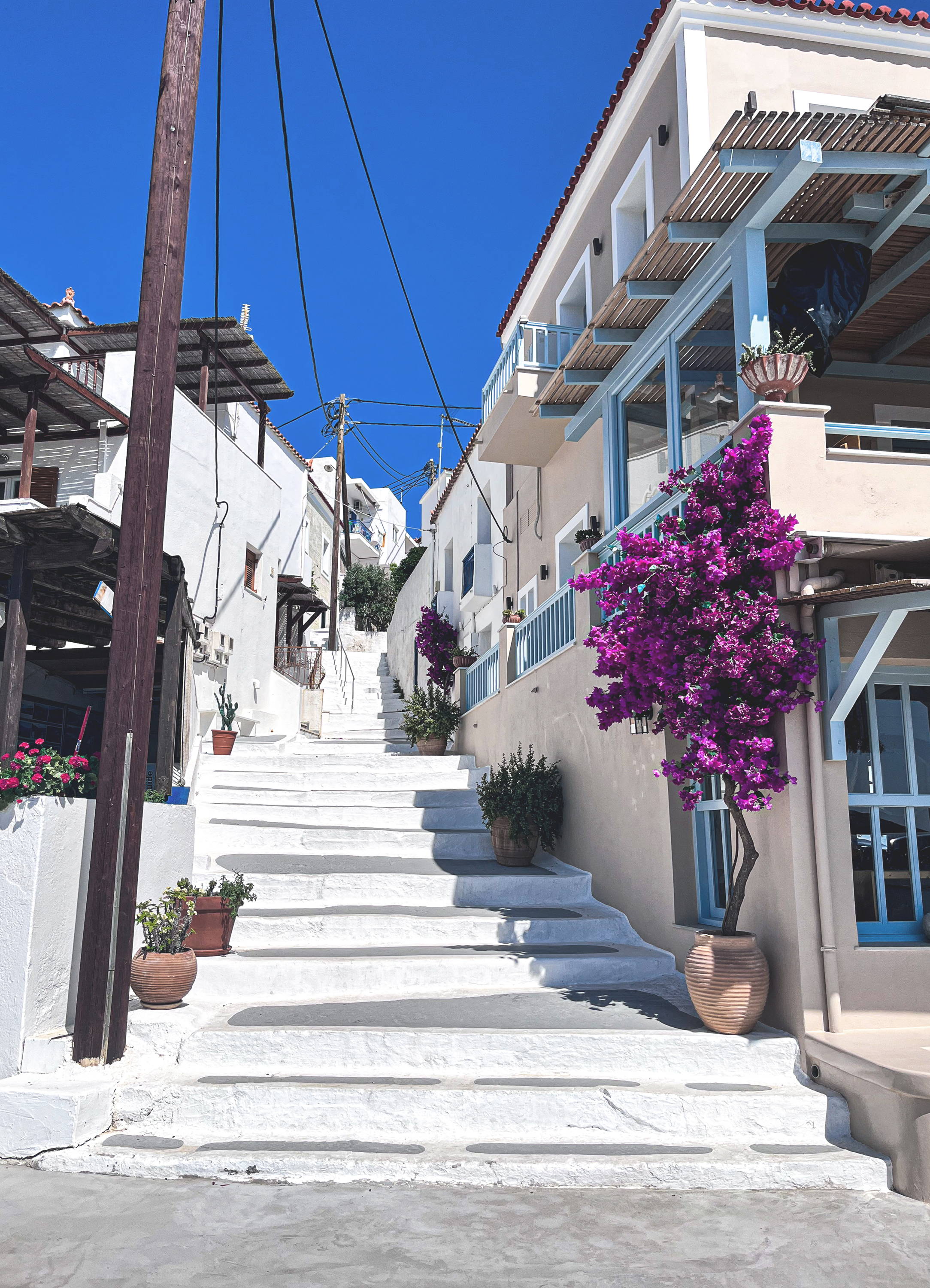 To round off their trip they explored the picturesque Chora and town of Batsi, absorbing more beautiful blue and whites exteriors, vivid pink bougainvillaea, and sun soaked streets. Fi and Lucy left Greece feeling completely revitalised and simmering with creative energy, having made some new friends along the way and a lot of inspirational memories. Look out for some Greek inspiration in our future collections!