Fi's colourful former home

Reflecting on lessons learned from her property's renovation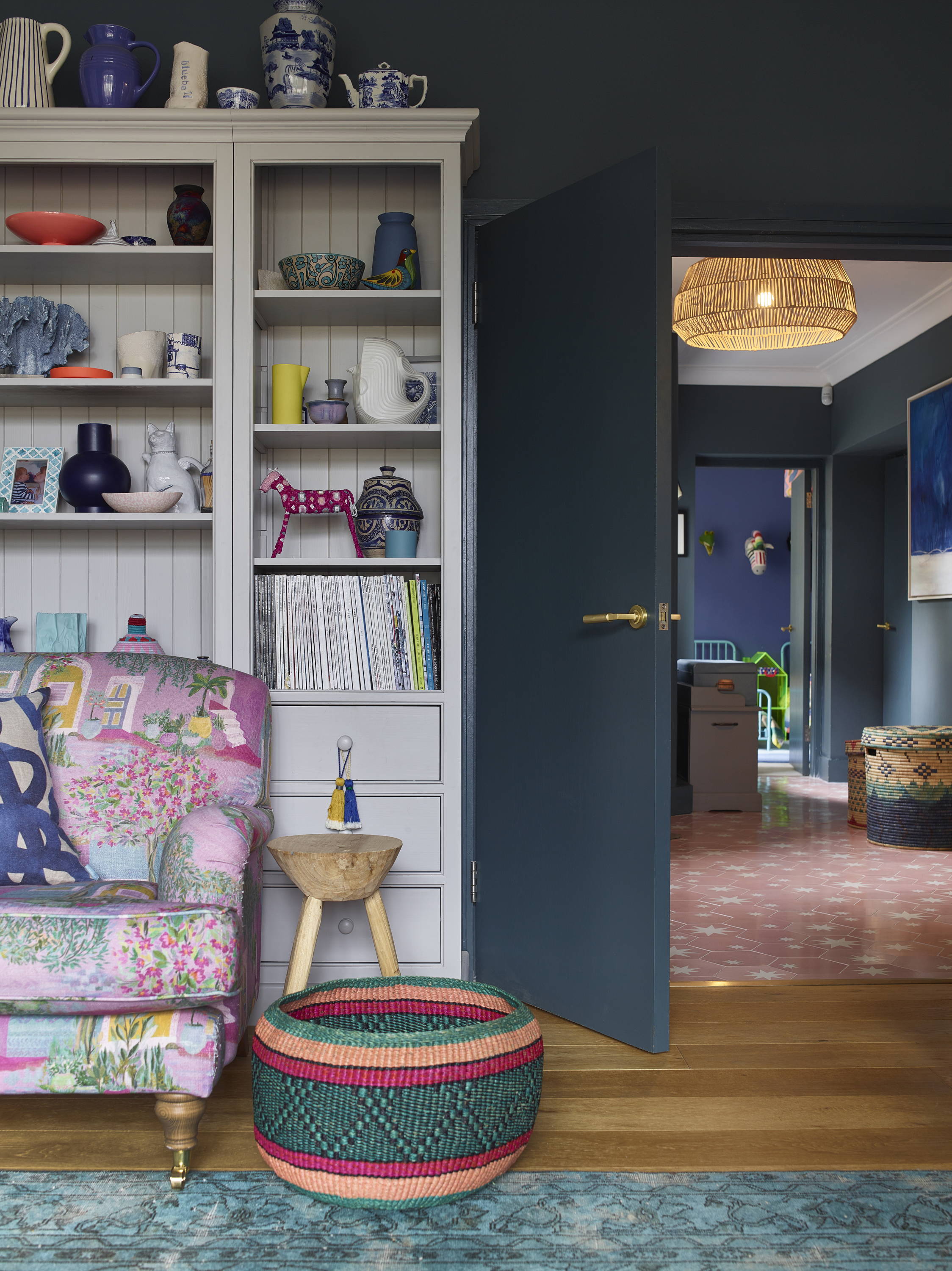 As Fi is currently in the midst of renovating and transforming her home it seemed the fitting time to look back at her beautiful, colour-filled former home and consider lessons learned from its renovations.
Fi's last home was a Victorian former coach house, a unique property of elegant proportions that had been sympathetically renovated, maintaining original features that nodded to it's history whilst feeling light, open and contemporary. Originally designed to store horse drawn carriages, the cobblestone entrance and arched ceilings remain at the property serving as a reminder of it's former function; the original cobblestones, which would have once echoed with the clatter of horses hooves, still lie underneath what became the family living room.
A home with a story to tell is a great starting point for Fi who is passionate about memories, meaning and objects that transport you back to a joyful moment. The home had been renovated by a developer and, excluding a couple of tedious plumbing and roof issues, was more or less a blank canvas for Fi to fill with signature Bluebellgray style. Reflecting on the renovations of her former home, Fi shared her home design expriences and how these have shaped her current project.
Create a colour conversation between rooms
The rooms in the coach house all felt like their own distinct spaces which served individual purposes, however they flowed together cohesively, united by thoughtful design that created the home's unique character. This was not accidental - Fi carefully chose two colours to appear in each room, allowing these rooms to speak to each other without appearing bland or predictable. As you look through images of the home you will notice teals and pinks in varying quantities - shouted loudly in some rooms whilst whispered softly in others but always creating the thread that tied the home together as one. Choosing a colour palette for your home creates a considered look however needn't be restrictive - if only teal and pink had been used this would have become tired and jarring, many other colours, patterns and materials featured throughout the home and worked so effectively because they were anchored by these unifying colours.
The hallway sets the tone for your entire property, it is the first impression you and your guests are greeted with and should give you the sweet sigh of relief to arrive back to your home. Fi learned two valuable lessons from her hallway renovation. Firstly, prioritise it as an important space - a hallway can too often be overlooked and condemned as an unimportant thoroughfare not worthy of care and attention. Generally we don't spend a particularly long time here, passing through briefly to get from one room to the next or for hurriedly throwing shoes and coats on before making our way elsewhere. Fi regrets leaving decorating this room to last, describing a sinking feeling on arriving at the property to a space devoid of her style that didn't feel like home. In her new property she has prioritised her entranceway to the top of the list, ensuring she is greeted with a beautiful and welcome sight when arriving home, creating a mood boosting first impression.
Fi decorated her hallway with calming and cocooning Inchyra Blue from Farrow & Ball and ensured an impactful entrance was made with an eye-catching and uplifting pink floor. Created with hexagonal pink encaustic tiles featuring assorted sized stars, the floor flowed neatly from the hall to the bathroom. This floor added a layer of pattern, texture and interest however was not without issues - this was where Fi's second lesson was learned. Despite looking absolutely beautiful, and creating the colourful entrance we would expect from Bluebellgray, these tiles became a complete nightmare to upkeep and in need of constant attention. Unfortunately the tiles were not durable enough for a high traffic area - despite being sealed they were easily stained, discoloured and cracked with minor impact. Fi would not recommend the use of encaustic tiles and will not be including them in her new home!
Your home should tell your story

Around Fi's home, past and present, you will always find collections; vintage crockery, framed artworks by her children, thoughtful gifts from friends, handmade products found in markets whilst on holiday - all of these are personal, meaningful and signify a point in time. Displaying objects that you love creates the unique tapestry of your own home that cannot be replicated elsewhere - it is your home and it should feel personal to you. Arrangements and vignettes of treasured finds does not mean clutter, these are lovingly styled and should serve to add moments of light and joy to your home. Fi loves to buy unique products from makers and filling her home with these creates character, charm and settings that continually inspire as she reflects on the creations of others. The beautiful Turkish and Moroccan rugs throughout the home added new points of interest, pattern and additional layer of storytelling that contributes to the rich and full overall design. Fi's collections will absolutely feature in her current home, and will continue to grow organically over time.
Think creatively to overcome barriers

The colourful sun room was constructed from PVC - a material at odds with Fi's preferred style. To counteract the cold appearance given by the PVC frame a primer was used and the construction was painted in beautifully uplifting pink eggshell paint (Cinder Rose by Farrow & Ball). Any coolness from the material was counteracted by the addition of softly folding, linen, roman blinds in our Archie fabric - a bold, warm and uplifting design that was used to stunning effect. Working through the barrier of dealing with a material that is not as customary to Fi allowed for this breathtaking result and created a joyful, light filled and colourful area to be enjoyed by the family.
Dealing with major issues such as walls, floors and bathrooms are all hugely important when designing a home but these won't reach their full potential if the finishing touches are forgotten. Fi replaced all the switches and sockets from the standard white plastic to brass, she disguised ugly radiators by painting them the same colour as the walls to allow them to fade into the background and conversely made features of two cast iron Victorian style radiators by painting them bold colours, and as a mother of three she ensured she had plenty of beautiful handmade storage baskets sourced from makers in Africa that could easily conceal children's toys that don't always meet our style preferences! By ensuring that these finishing touches were not neglected, the entire look of the home was well thought out and not adversely affected by an ugly plastic plug or glaringly white radiator.
Designing a property can be a long process of trial and error, Fi has learned over time that renovating slowly enables better informed decisions and a more considered result. It is with these principles in mind that she moves on to renovate her beautiful new home - we look forward to sharing with you soon!