How to Mix and Match Cushions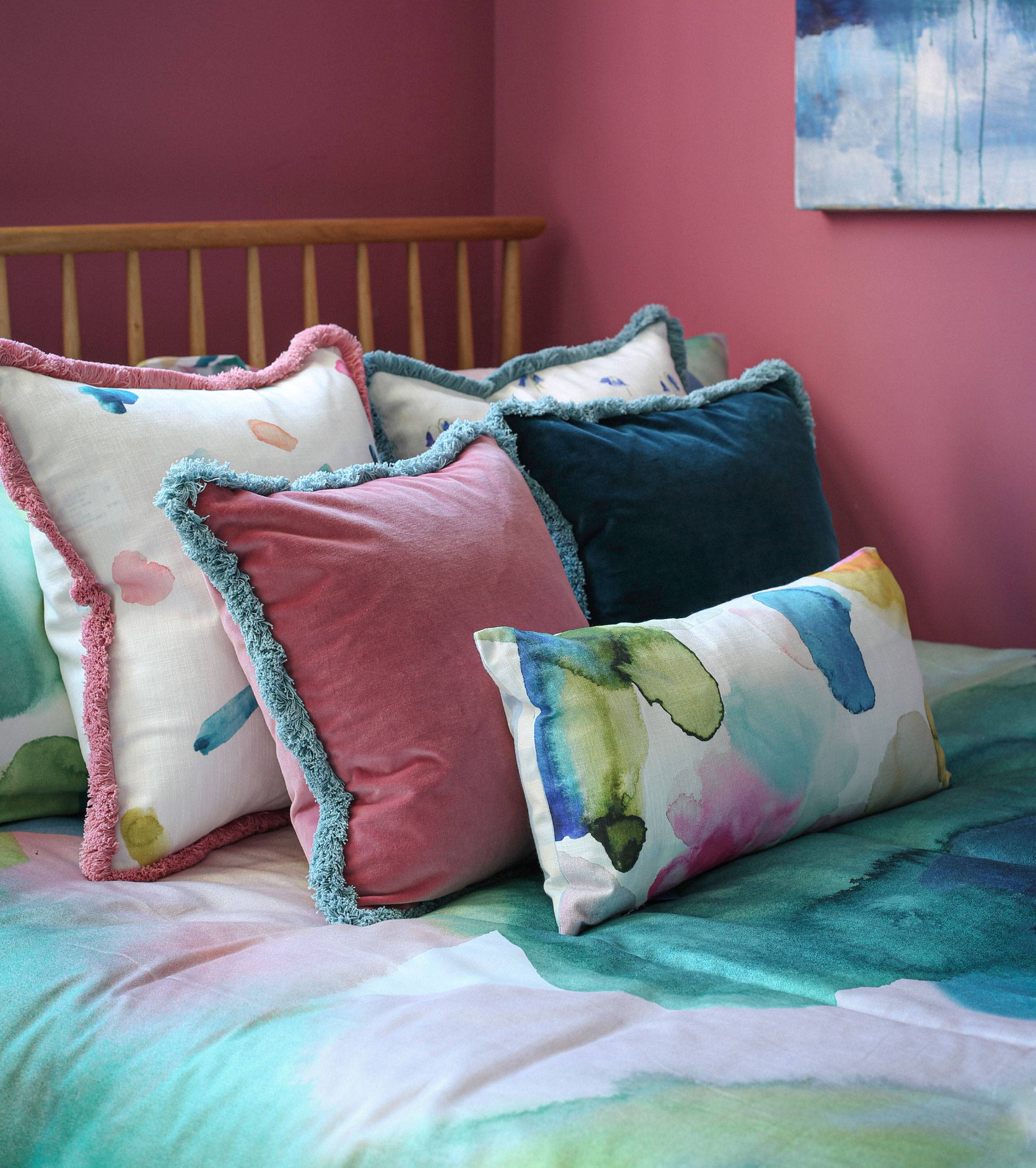 ---
Take a leaf out of Suzanna Salk's book Decorate Fearlessly and make bold choices you won't regret – here's how we like to style bright patterned cushions and mix and match them in our own homes.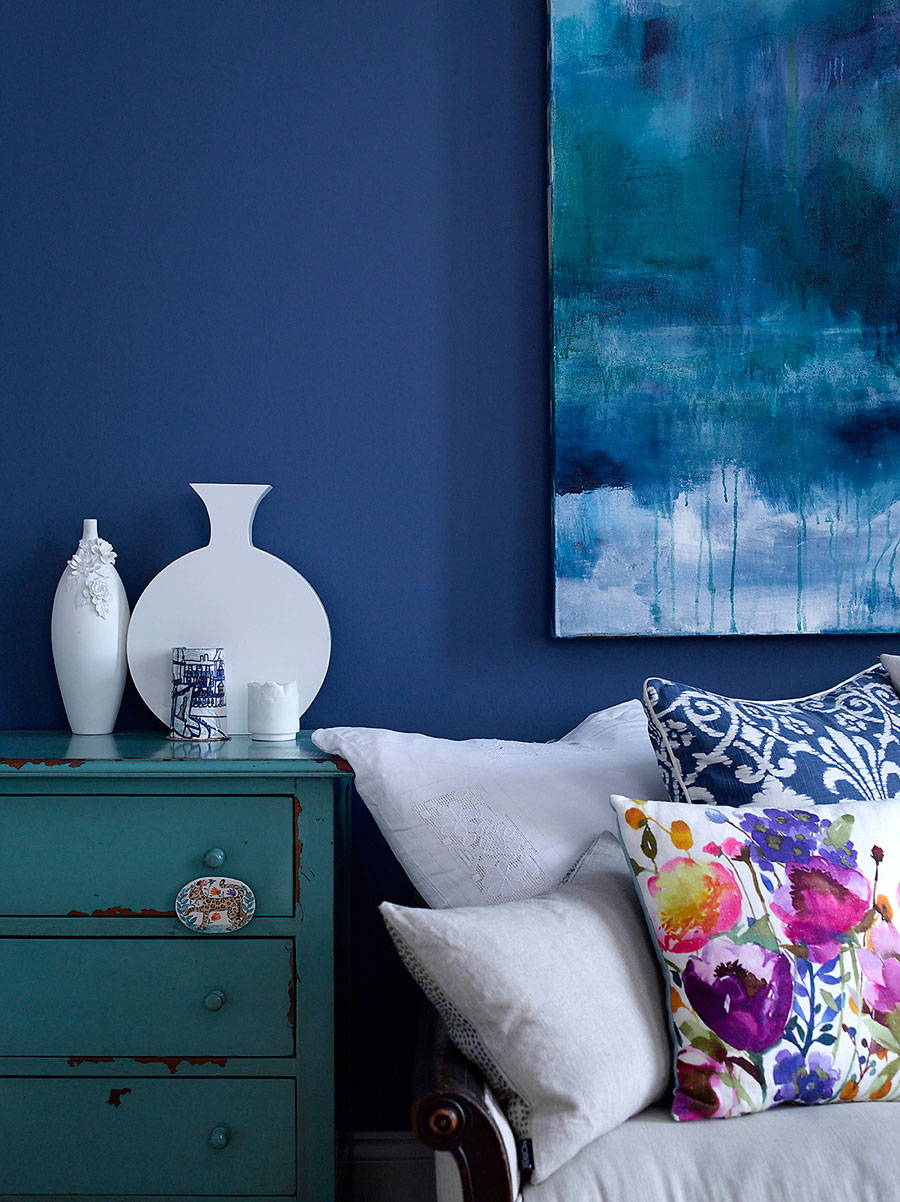 Make like our Founder Fi and mix and match cushions in contrasting patterns, by picking out a common tone between them. This way you can mix floral fabrics with geometrics, stripes and classic patterns and it'll still be complementary. Don't believe us? Fi's own home pictured above with bright patterned cushions makes the case for this fearless approach to home styling.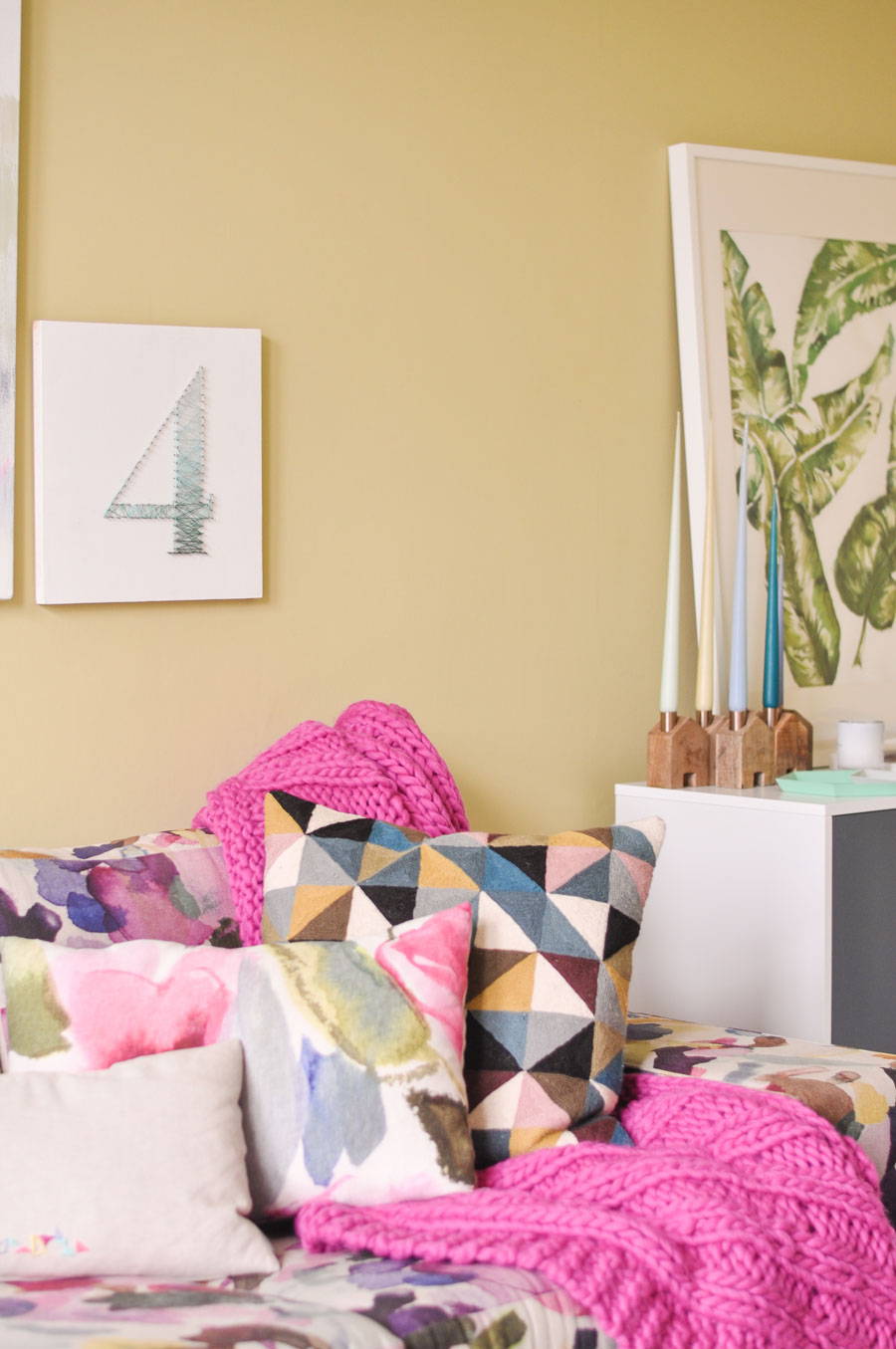 Ahh, our favourite spot in the house. Bluebellgray's Brand Director Lillian uses the sofa as the base for pulling together a range of coloured cushions, picking up the various tones to create an eclectic yet cohesive look. One colour getting all the attention? Balance it out by adding in another element in that colour just like she did here with our Lomond cushion and cerise throw (the shocking pop of pink up the pastels).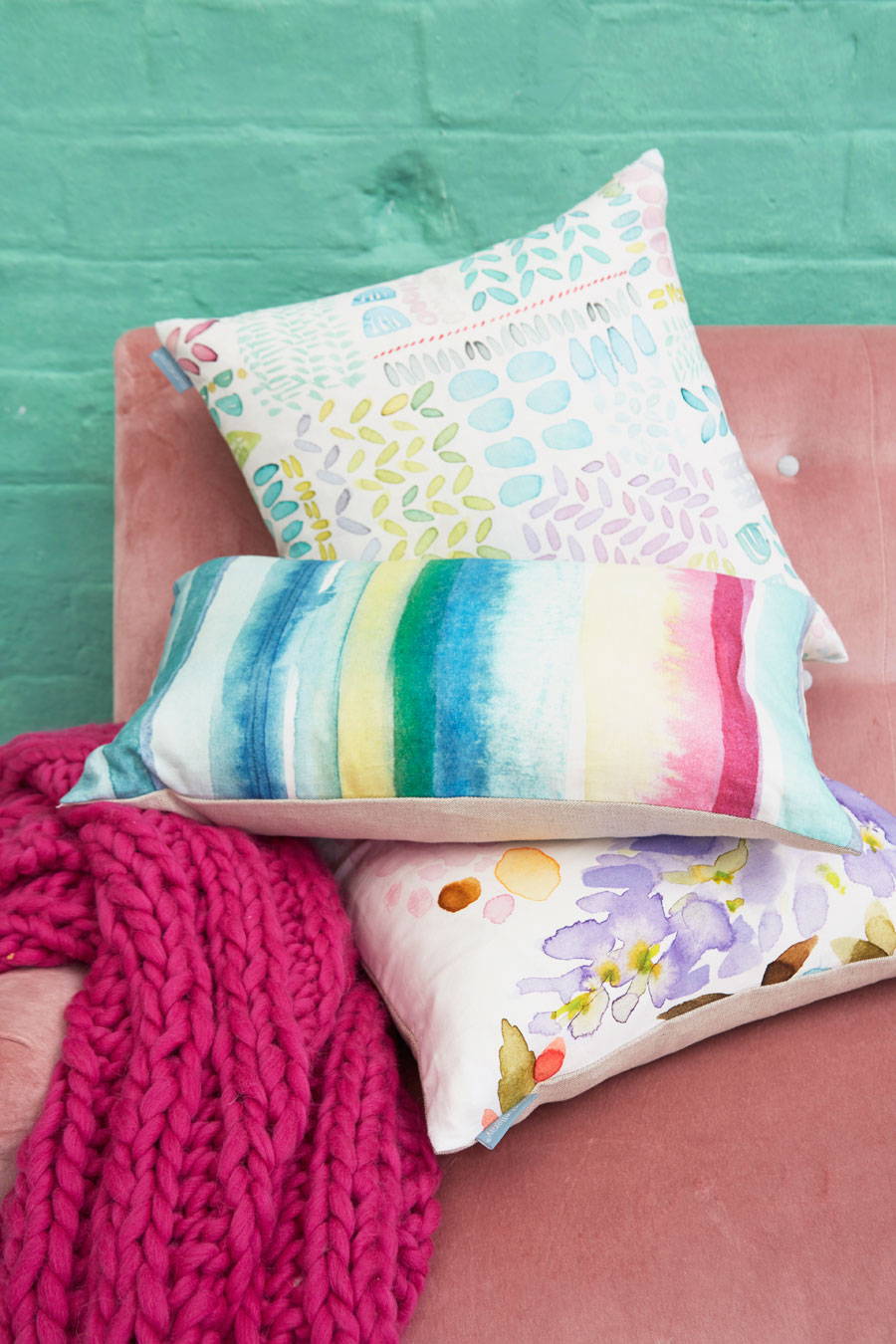 There's nothing we love more than mixing textures to add depth and interest to a space. Bring balance to a room by contrasting rich, smooth velvets with a more rustic linen like our Wisteria floral fabric, striped Lomond watercolour fabric and Lola pastel fabric. Our Web Manager Dom has upgraded his shared home office above, for a neutral, uplifting spot to work in.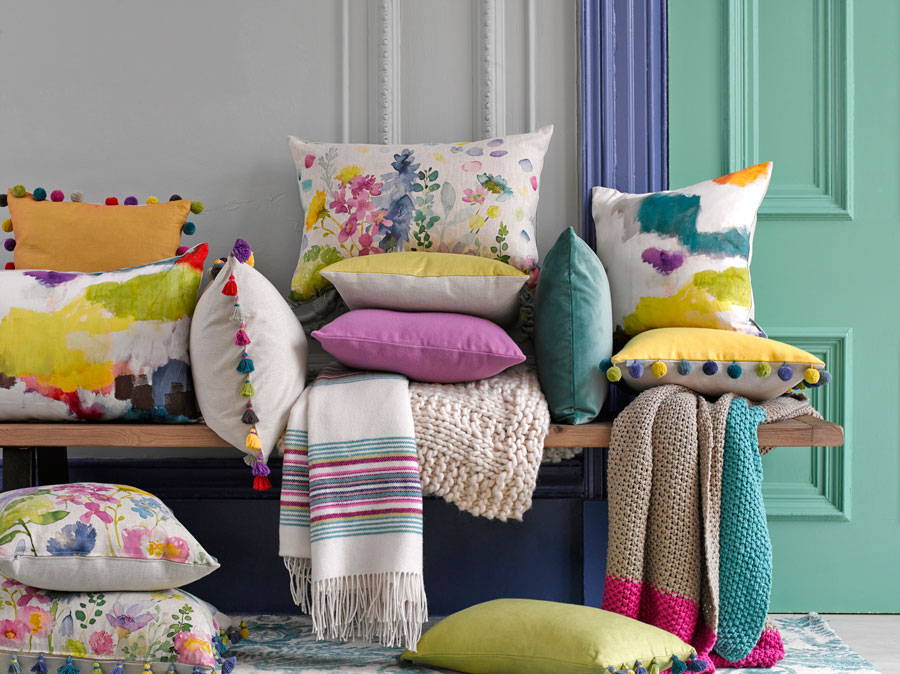 Back to that same theory of pulling everything together with anchor colours, here the ecru background of our bright patterned cushions acts as a base note, allowing the vivid florals, watercolour brushstrokes and tassels to pop. The bright hues complement, rather than compete, for that effortless mix and match appeal.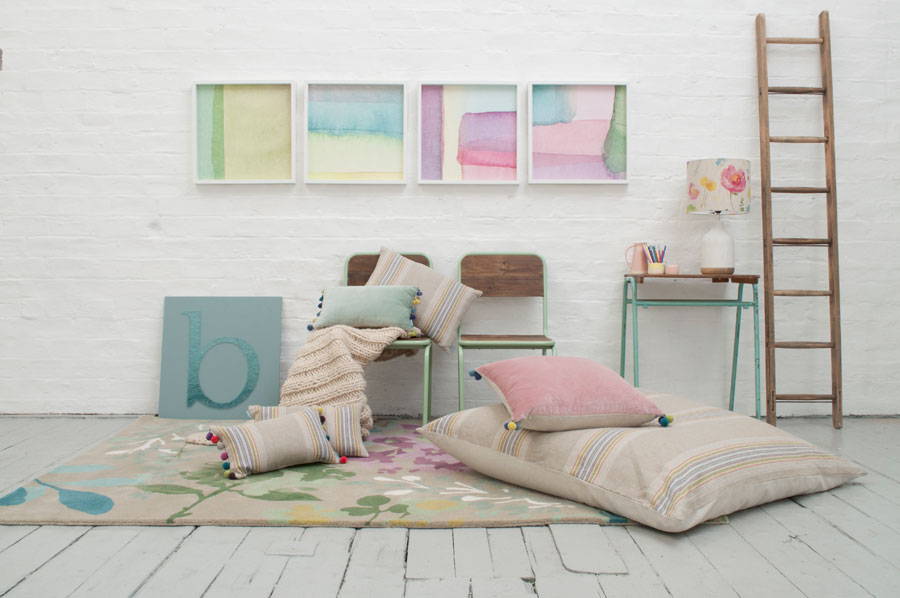 Whoever said, 'Go big or go home' would have fitted in very well to Bluebellgray studio. There's nothing we love more than parking ourselves on giant floor cushions for impromptu meetings. Don't be afraid of scale – supersize your cushions and layer them up to create a playful, bold statement in your living room or children's room. Here, the soothing pastel colours of our Sea Linen morar tassel cushions and Blush Botanical tassel cushions pairs with our abstract wall art and modern rugs.
Discover more expert styling tips from the Bluebellgray team.
Inside Fi's Bedroom > https://www.bluebellgray.com/blog/fis-bedroom-tour/
How to create beautiful Bluebellgray looks at home > https://www.bluebellgray.com/blog/how-to-create-beautiful-bluebellgray-looks-at-home-your-bluebellgray/
Enter your email and receive 10% off your first order and be the first to know about new releases and get early access to sales, events and special offers.